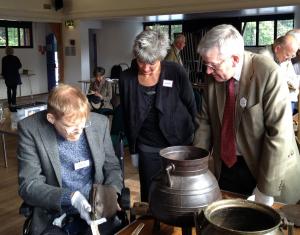 The Society meets twice a year, in Spring and Autumn, normally on a Sunday, at a location convenient for the majority of those who attend regularly; currently North Warnborough Village Hall, Priors Corner, Dunley's Hill, North Warnborough RG29 1EA. Meetings are friendly, informal occasions with talks by members and outside experts. There are also many opportunities for members to handle and discuss objects and to "network" with kindred spirits. A popular feature of every meeting is entitled "Members' Objects", when members have an opportunity to seek expert opinions on items from their own collections, and there is a 'bring and buy' table for books and objects. Occasional visits are also arranged, to museums, collections and exhibitions.
The Spring Meeting, which incorporates the Society's Annual General Meeting, is usually held in March and the Autumn Meeting in October. New members are always especially welcome. A modest charge is made to cover the hire of the venue.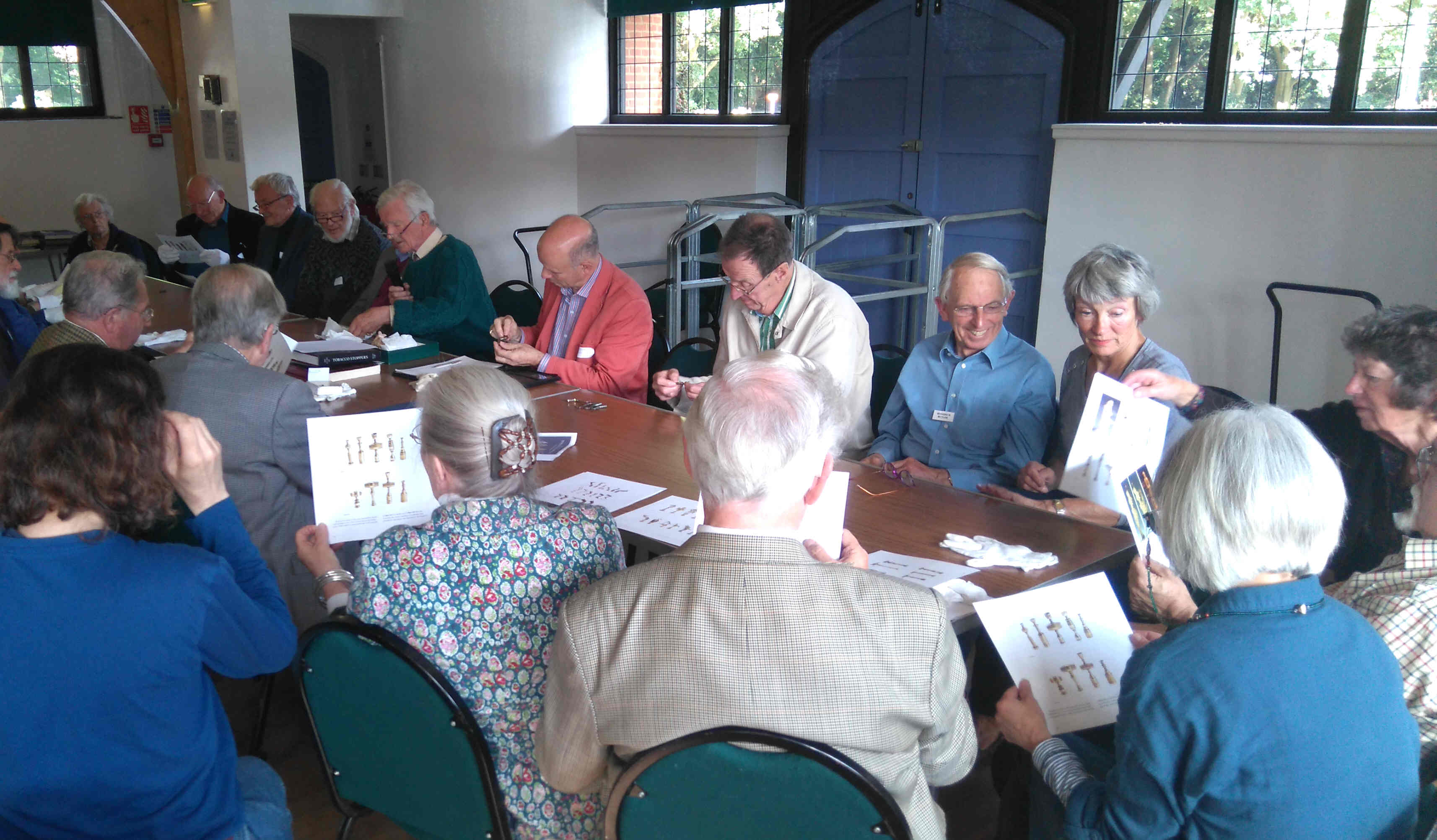 Recent lecture topics at AMS Spring and Autumn meetings include:
Collecting snuffers: most certainly worth the candle.
Brass skimmers, ladles and slices of the late 17th and 18th centuries and their marks.
Not a Eureka moment: the Eureka or Latin verse machine.
The Tula fireplace at the V&A and a new acquisition for the collections.
A can of base metal worms: John Jewsbury & Co., Pearson Page & Co. and Pearson Page Jewsbury.
Candle gadgetry.
From Pigs to Dragons: English and Welsh Japanned metalware 1730 – 1930.
The Autumn meeting for 2017 was held on Sunday October 1st at North Warnborough Village Hall.
10.00 – 10.45     Registration, collection of fees £15 per member, serving of coffee, tea & biscuits
Programme
10.45 – 11.45 AMS website developments : Lawrie Trask (Web Manager).
A run through the latest additions to the website and a discussion on other possibilities for the site and its development.
11.45 – 12.30 Some unusual French candlesticks: Geoffrey Draughn provides examples of French sticks and considers the significance of the crowned 'C' and crowned 'R' on these and other items of French metalware. Members are encouraged to bring to the meeting examples of French candlesticks for discussion.  This presentation may now be viewed on-line by AMS members; when logged in, select the option in the Publications menu.
12.30 – 1.45 Break for lunch. There will be a glass of wine, but lunch is not provided, so please bring your own picnic or find lunch in North Warnborough.
1.45 – 2.30 Cabinet metalware: more questions than answers. AdamBowett discusses aspects of this little-studied area. Members are encouraged to bring examples to the meeting for discussion .
2.30 – 3.30 Members' Objects: Members are invited to bring metalware items likely to be of interest to other members and about which you would like to know more. Please label items with your name and complete the attached form for each one. '
3.30 – 4.00 Tea and biscuits: close of Autumn meeting
4.15 Executive Committee Meeting .