Many aspects of metalware are studied, including the history and methods of production, styles and uses, with the main focus on objects of European origin intended for domestic, institutional or craft purposes. Interests also extend to regions where European traditions have been influential, such as the United States, and to cultures that have influenced European metalworking.
Although we are flexible about the period covered by our members interests, they generally range from the medieval to the First World War, and we study predominantly pieces that were hand-made rather than mass-produced.
Society members include leading experts in their fields who have published authoritative books on such topics as bronze cooking pots, rush lights, paktong, firebacks, candlesticks and marks on brassware.
Current Committee Members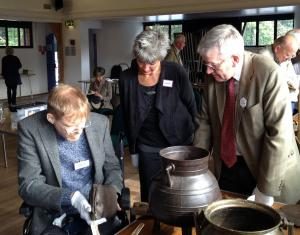 Chairman – Geoffrey Draughn
Vice-Chairman – David Pearsall
Treasurer – Chris Walker
Secretary – Geoff Smaldon
Journal Editor – Rachel Hunt
Programme Officer – Charles Ormrod
Website Manager – Lawrence Trask
Committee Members – Neil Bollen and Kevin Rose
AMS Constitution
AMS Procedures and Practices
AMS Authors
Ashley, R (dec'd)., 2001. The Rushlight and Related Holders: a Regional View. ISBN 0954009002 Marlborough, Ashley Publications
Bangs, C., 1995. The Lear Collection: a study of copper-alloy candlesticks A.D. 200 – 1700. ISBN 096422240X Easton, PA, King's Hill Publications
Butler, R., Butler, V., Bollen, N. & Green, C., 2001. A Study Collection of Marked Domestic Brass and other Base Metalware c.1600 – c.1900 Honiton
Butler, R., & Green, C., 2003. English Bronze Cooking Vessels and their Founders 1350 – 1830. ISBN 0954605004. Honiton
Crawforth, A. J., 2011 in Deeley 2011 (op cit)
Deeley, R., 2011. The Cauldron, the Spit and the Fire. ISBN 9780947870737 . Gold Cockerel Books
Finlay, M., 1990. Western Writing Implements in the Age of the Quill Pen. ISBN 1872477003. Plains Books
Finlay, M., 2006. The Mining and Related Tokens of West Cumberland. ISBN 9781872477015. Plains Books
Finlay, M., 2010. English Decorated Bronze Mortars and their Makers. ISBN 13 9781872477022. Plains Books
Finlay, M., 2014. Pastry Jiggers and Pastry Prints. ISBN 13 9781872477039. Plains Books
Grant, A,. & Patterson, A., 2018. The Museum and the Factory: The V&A, Elkington and the Electrical Revolution. ISBN 9781848222915. London, Lund Humphries Publishers Ltd
Hodgkinson, J., 2010. British Cast Iron Fire Backs of the 16th to mid-18th Centuries. ISBN 9780956672605. Crawley, Hodgers Books
Koldeweij, E., 2001. The English Candlestick: 500 years in the development of base metal candlesticks. ISBN 0903432587 London, Christies Books
Pearsall, D., 2011 in Deeley 2011 (op cit)
Pinn, K., 1999. Paktong. The Chinese Alloy in Europe 1680 – 1820. ISBN 13 9781851493241. Woodbridge, Antique Collectors' Club
Rosack, L., 2004. The A-Z Guide to Collecting Trivets. Identification & Value Guide. ISBN 13 9781574323993. Collector Books
Rosack, L., 2010. The Expanded A to Z Guide to Collecting Trivets. Identification and Values. ISBN 9781574326413. Collector Books
Wallace, W., 2016. The Lure of the Key. ISBN 13 9781910787250. Unicorn Publishing
Scroop, Garry., 2019. The Art of the Doorknocker. ISBN 0648689956, 9780648689959. Openbook Howden Design & Print