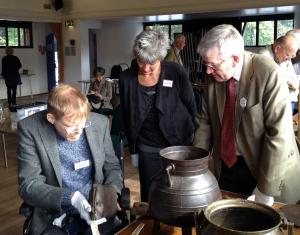 The Society meets twice a year, in Spring and Autumn, normally on a Sunday, at a location convenient for the majority of those who attend regularly; currently North Warnborough Village Hall, Priors Corner, Dunley's Hill, North Warnborough RG29 1EA. Meetings are friendly, informal occasions with talks by members and outside experts. There are also many opportunities for members to handle and discuss objects and to "network" with kindred spirits. A popular feature of every meeting is entitled "Members' Objects", when members have an opportunity to seek expert opinions on items from their own collections, and there is a 'bring and buy' table for books and objects. Occasional visits are also arranged, to museums, collections and exhibitions.
The Spring Meeting, which incorporates the Society's Annual General Meeting, is usually held in March and the Autumn Meeting in October. New members are always especially welcome. A modest charge is made to cover the hire of the venue.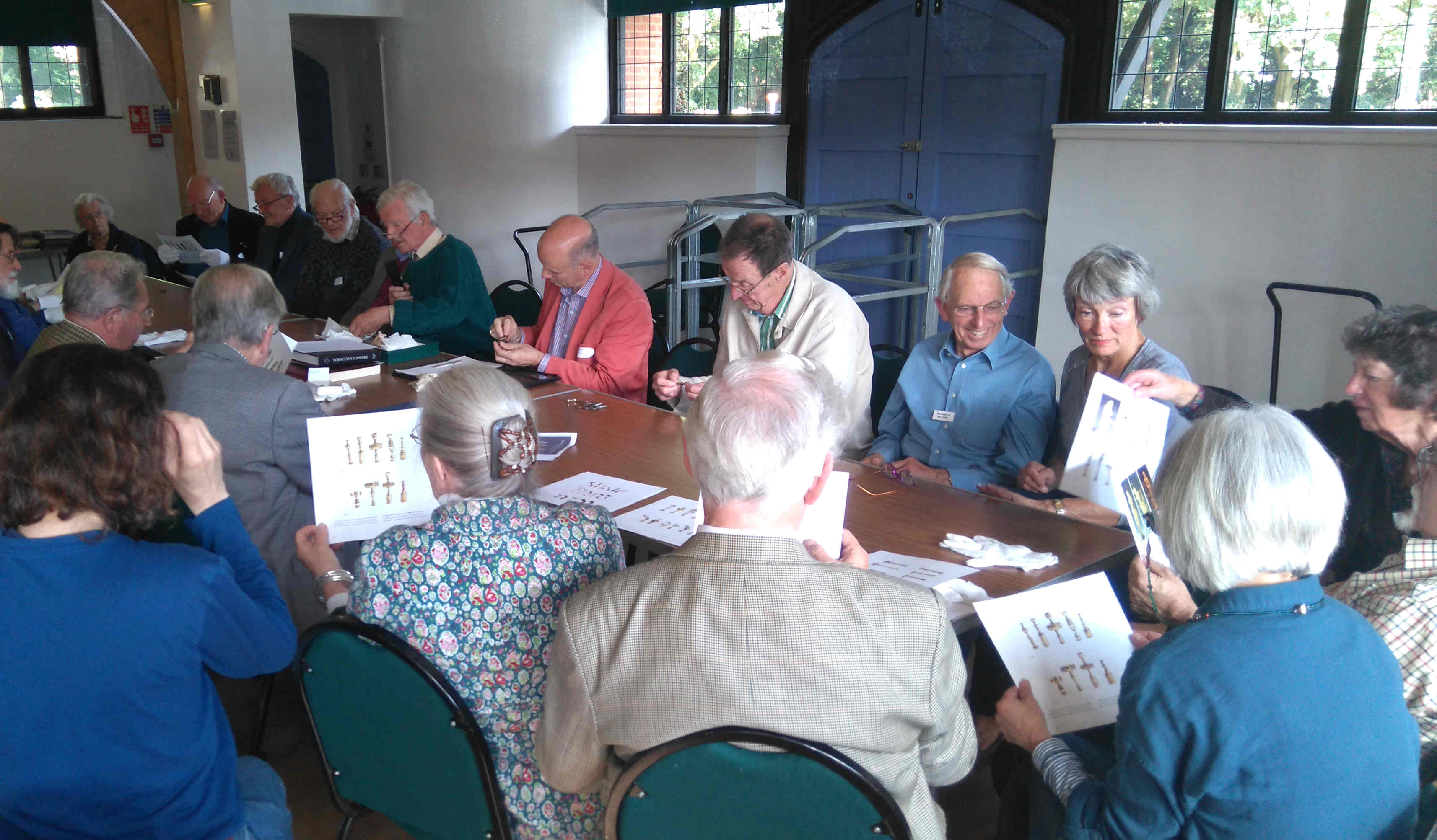 Recent lecture topics at AMS Spring and Autumn meetings include:
Collecting snuffers: most certainly worth the candle.
Brass skimmers, ladles and slices of the late 17th and 18th centuries and their marks.
Not a Eureka moment: the Eureka or Latin verse machine.
The Tula fireplace at the V&A and a new acquisition for the collections.
A can of base metal worms: John Jewsbury & Co., Pearson Page & Co. and Pearson Page Jewsbury.
Candle gadgetry.
From Pigs to Dragons: English and Welsh Japanned metalware 1730 – 1930.
The Autumn meeting for 2019 will take place in North Warnborough on Sunday the 6th October 2019.
The programme includes the following presentations:
Dr Richard Hayman, Architectural Ironwork in Britain: from Twelfth Century Church Doors to Charles Rennie Mackintosh.
Wrought iron has been used as a decorative element in architecture since the twelfth century and this talk will illustrate some of its main applications.  In the medieval period it consisted primarily of ironwork to strengthen and decorate doors, and then freestanding screens and railings.  From the 17th century iron screens, gates and railings became a fashionable accessory of country and town houses. The advent of cheaper cast iron brought a temporary decline in the use of wrought iron, but it flourished again with Gothic Revival architects such as Sir Gilbert Scott and William Burges, continuing into the twentieth century with architects like Charles Rennie Mackintosh.
Richard Hayman wrote his 2004 PhD thesis on the history of the iron industry and he is the author of several books and articles on that topic generally and on wrought iron objects.  He also has an interest in church architecture, and has many years of experience as an archaeologist and buildings historian, including work for government bodies and the National Trust.  He combines these interests in his study of architectural ironwork, the subject of his talk for AMS.
Kevin Strudwick, Notes from a Cagophilist.
A cagophlist is a collector of keys.  Beginning with the Roman period, this talk will explore methods of making keys and the stylistic development of key shapes and decoration over the centuries, illustrated with examples drawn from the speaker's extensive collection of mainly wrought iron keys.  Fakes and forgeries have appeared on the market, and the talk will include tips on how to spot them.  There will also be advice on the conservation and display of a key collection.
Kevin Strudwick is an AMS member and has been collecting keys from across Europe for many years, dating from the Roman period through to medieval, early modern and later examples.  He has over 1,000 examples in his collection and has an international network of contacts in the world of cagophily.