Nuremberg Basin
Material: Brass sheet
Dimensions: Diameter: 39.5cm / 15 ½in, Depth: 4.5cm / 1 ¾in
Place of Origin: Nuremberg, southern Germany
Date: About 1550
Maker or Retailer: Unknown
Present Location: Victoria and Albert Museum, London, Museum number M.133-1937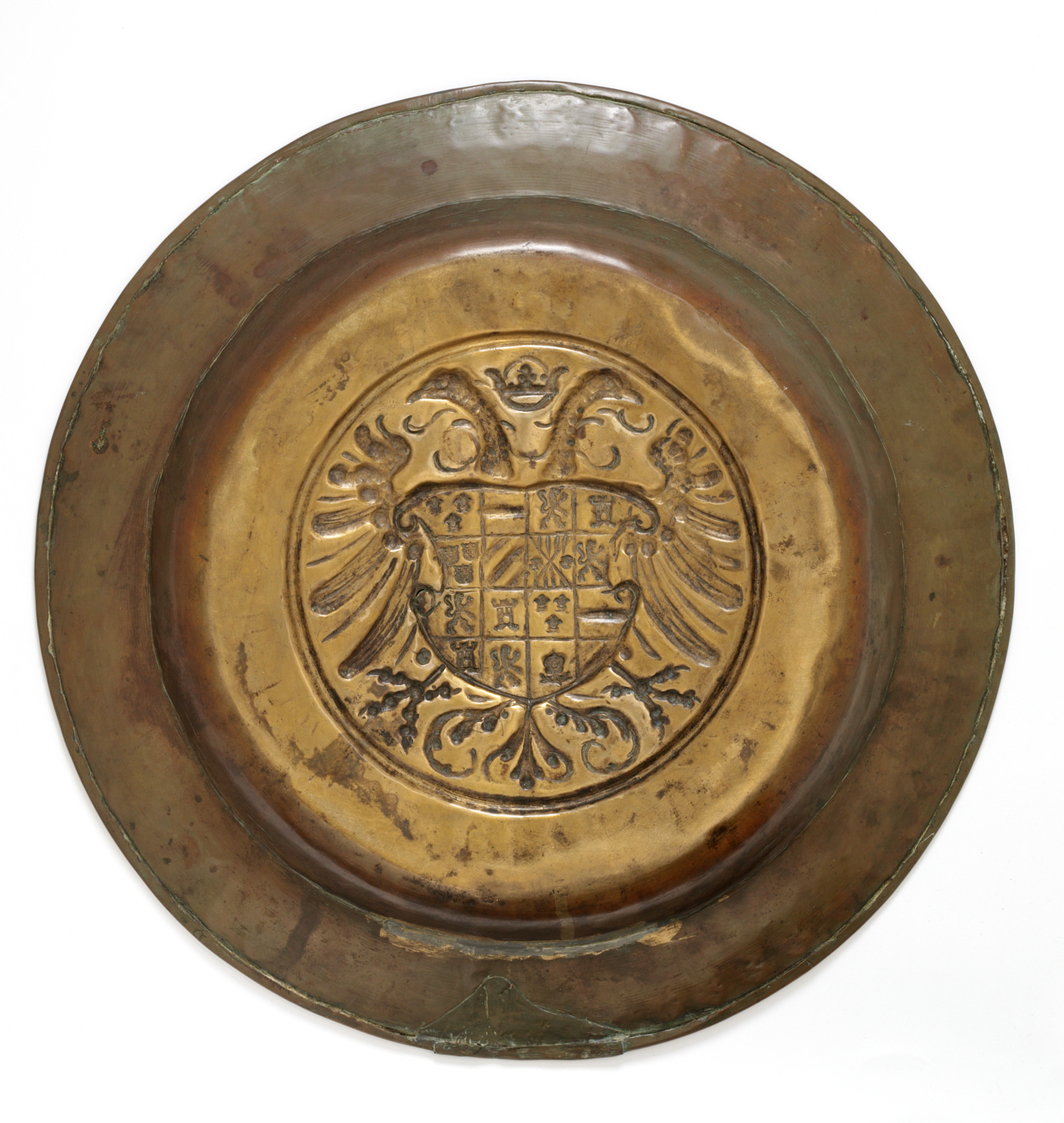 Explanation:
Brass basins are particularly associated with Nuremberg in Bavaria, from where they were exported all over Europe. They are sometimes referred to by collectors as 'alms dishes', but this is not the purpose for which they were made: they were secular items, intended for use in the home. Many are decorated with coats of arms or with scenes from the Bible or classical mythology. Some were used to serve food. Others have a circular boss raised in the middle, to hold a water jug so that the ewer and basin could be used for washing. Another little-known use for these basins was as reflectors for wall candles. In the late 17th century, when they started to go out of fashion, many basins were donated to churches, where they served as alms dishes.
Turning the basin over reveals how its central decoration, in this case the arms of the Holy Roman Emperor, Charles V, was hammered from the reverse into a steel die. The repeating letters and patterns on the front were added with individual stamps and punches. Some dishes like this one have turned-over edges, to strengthen their rims and make them more rigid to stand on edge as they became more pictorial. The Nuremberg trade was guarded zealously by the town council and basin beaters swore an oath to be bound by rules which governed their working hours, the number of apprentices they could employ and the types of tools and dies they could use.
Although Nuremberg gives its name to these basins, they were also made elsewhere, including Aachen and towns in the Netherlands. Whereas the Nuremberg examples are always made using shaped dies and punches, the Dutch ones were entirely hand-chased and embossed.
References:
For wider explanation:
Klaus Tiedemann, Nuremberg Alms Dishes, J.H. Roll Verlag, 2015, ISBN 978-3-89754-466-6
Jan A. Gadd, 'Brass Basins and Bowls from a Single Nuremberg Workshop, Around 1500-1580′,  Journal of the Antique Metalware Society, Vol. 16, June 2008, ISSN. 1359124X
V&A Search the Collections catalogue entry:  http://collections.vam.ac.uk/item/O129258/dish-unknown