Curfew
Material: Brass
Dimensions: Height: 39.5cm / 15 ½in, Width: 60.7cm / 23 ⅞in, Depth: 30.5cm / 12in
Maker or Retailer: Unknown
Present Location: Victoria and Albert Museum, London, Museum number 94-1891
Explanation:
Brass occasionally gives words to the English language which take on a wider meaning. A brass fireguard was known as a curfew, from the French 'couvre-feu' meaning 'fire cover'. A curfew enclosed the embers safely in the fireplace at the end of the day and kept them smouldering overnight, to be revived the following morning with a few puffs of the bellows. Some curfews had ventiliation holes to allow small amounts of air to enter so that the fire was not completely starved of oxygen.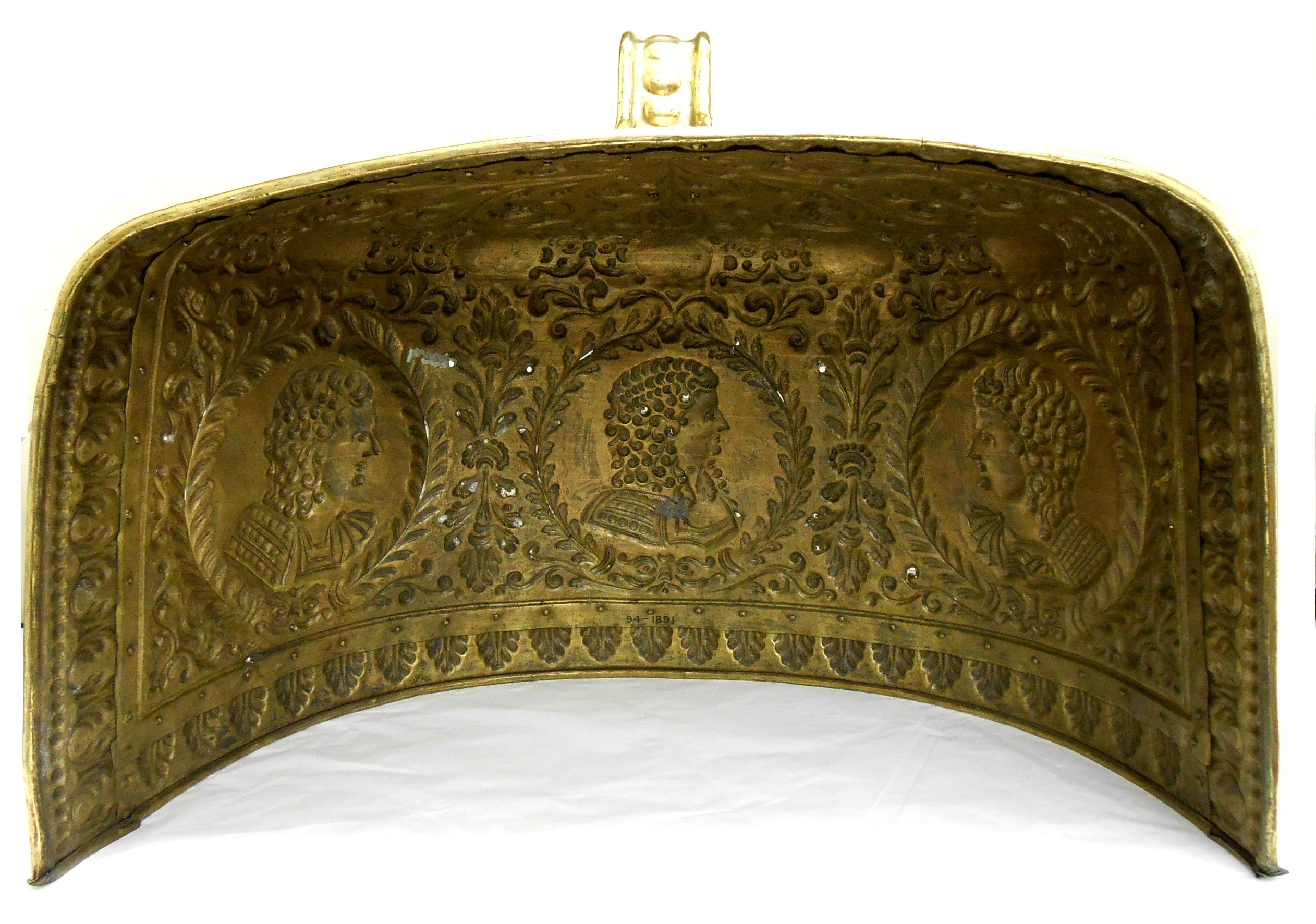 This curfew would have furnished a wealthy middle class home. Similar examples appear in Dutch genre paintings of the second half of the 17th century showing the well-appointed interiors of townhouses. This was a period, after the Thirty Years War (1618-48), when cultural and artistic centres in Europe shifted north to the Netherlands, Scandinavia and France. Dutch brasswares were exported throughout Europe, including to Britain.
The fireplace was the focal point of a room. It was not only the primary source of heat, but also of light after the sun had set. Fireplace furniture, including firedogs, curfews, and fire tools, was often produced in brass to take advantage of its highly reflective qualities.
This curfew is made of sheet brass and decorated in repoussé, an embossed decoration hammered from the back to create a design in relief. The decoration features three male heads within wreaths and flowers. It exemplifies a long tradition of embossed brasswork in the Netherlands. Similar decoration can also be found on brass buffet dishes and warming pan lids. Surviving curfews are rare.
References:
Rupert Gentle & Rachael Feild, Domestic Metalwork 1640-1820, 2nd edition revised by Belinda Gentle, 1994, Antique Collectors' Club, Woodbridge, Suffolk, ISBN1851491872,  p. 329 fig.1
Elizabeth Miller and Hilary Young eds., The Arts of Living: Europe 1600-1815, V&A Publishing, 2016, p. 107, ill
V&A Search the Collections catalogue entry:  http://collections.vam.ac.uk/item/O102759/curfew-unknown