Trade Tokens
Submitted by, and copyright of, Michael Finlay.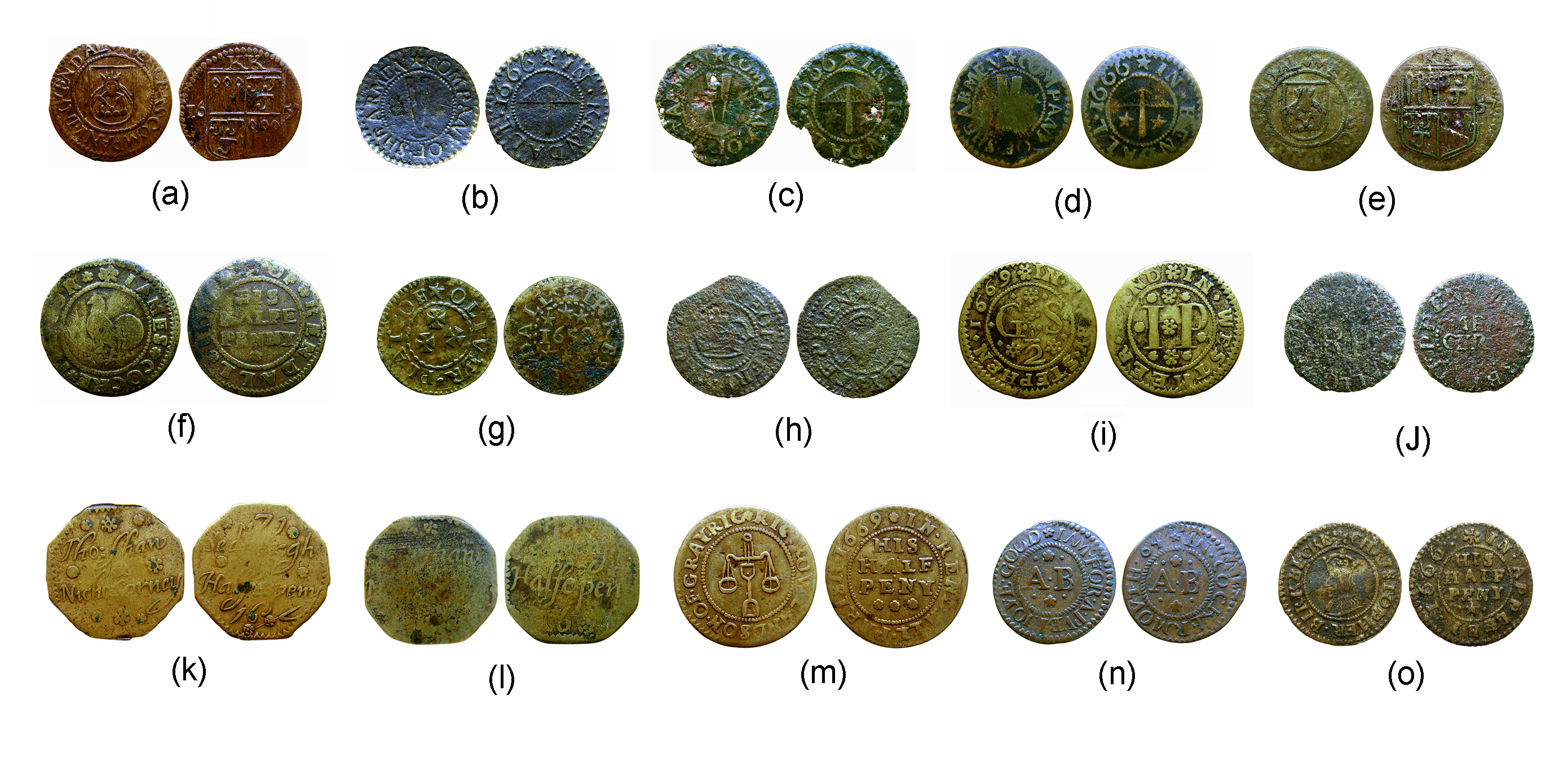 Material: Copper, brass
Place of Origin: Cumberland & Westmorland, England
Maker or Retailer: Unknown
Present Location: Private collection
Explanation:
During the third quarter of the 17th century, after the Lord Protector Oliver Cromwell's refusal to issue regal coinage of small denominations, there was a great dearth of farthings and halfpennies, to the extent that trade was seriously and adversely affected.  Traders in every branch of retailing had to resort to having struck their own farthings and, to a lesser extent, halfpennies. A few of those made for traders in the geographical area which is now Cumbria, are shown here.
(a)     Kendal, Mercers ' Company, 1657, Farthing, AE 17.07mm, 1.3gm. Westmorland 5.
(b)     Kendal, Shearmens' Company, 1666, Farthing, BS 16.82mm, 0.6gm.  Westmorland 6.
(c)     Kendal, Shearmens' Company, 1666, with stars, Farthing, BS 16.79mm, 0.9gm, Westmorland 7.
(d)     Kendal, Shearmens' Company, 1666 with stars, Farthing, AE 16.89mm, 0.8gm, Westmorland 7A.
(e)     Kendal, Mercers' Company, 1657, Farthing, AE 17.49mm, 1.6gm, Westmorland 5.
(f)      Kendal, Iames Cocke Iunior, 1667, Halfpenny, BS 20.81mm, 2.3gm, Westmorland 9.
(g)     Kendal, Oliver Plat, 1659, Farthing, BS 16.30mm, 1.6gm, Westmorland 11.
(h)     Kirkby Stephen, Ieoffrey Thompson, Farthing, AE 16.29mm, 0.6gm, Westmorland 18.
(i)      Kirkby Stephen, GS IP, 1669, Halfpenny, BS 21.88mm, 2.9gm, Westmorland 16.
(j)     Kirkby Stephen, Iohn Fallowfeild & RP, Farthing, AE 15.21mm, 0.6gm, Westmorland 13.
(k)     Sedbergh, Tho: Shaw & Nicho: Corney, 1671, Halfpenny, BS 20.62mm, 1.6gm, Yorkshire 304.
(l)      Sedbergh, Tho Shaw & Nicho Corney, 1671, Halfpenny, BS 20.28mm, 1.3gm, Yorkshire 304, Ex Norweb (6040) and Nott Collections.
(m)    Grayrigg, Ric Rowlandson, 1669, Halfpenny, BS 20.75mm, 1.4gm, Westmorland 4.
(n)     Cockermouth, AB [16]64, Farthing AE 16.93mm, 1.1gm, Cumberland 2.
(o)     Appleby, Christopher Birkbecke, 1666, Halfpenny, BS 20.44mm, 1.4gm, Westmorland 1. (RRRR)
Reference:
Dickinson, Michael, Seventeenth Century Tokens of the British Isles and Their Values, Spink, London 2004. ISBN 13: 9780900652783