Candle and Rushlight Holder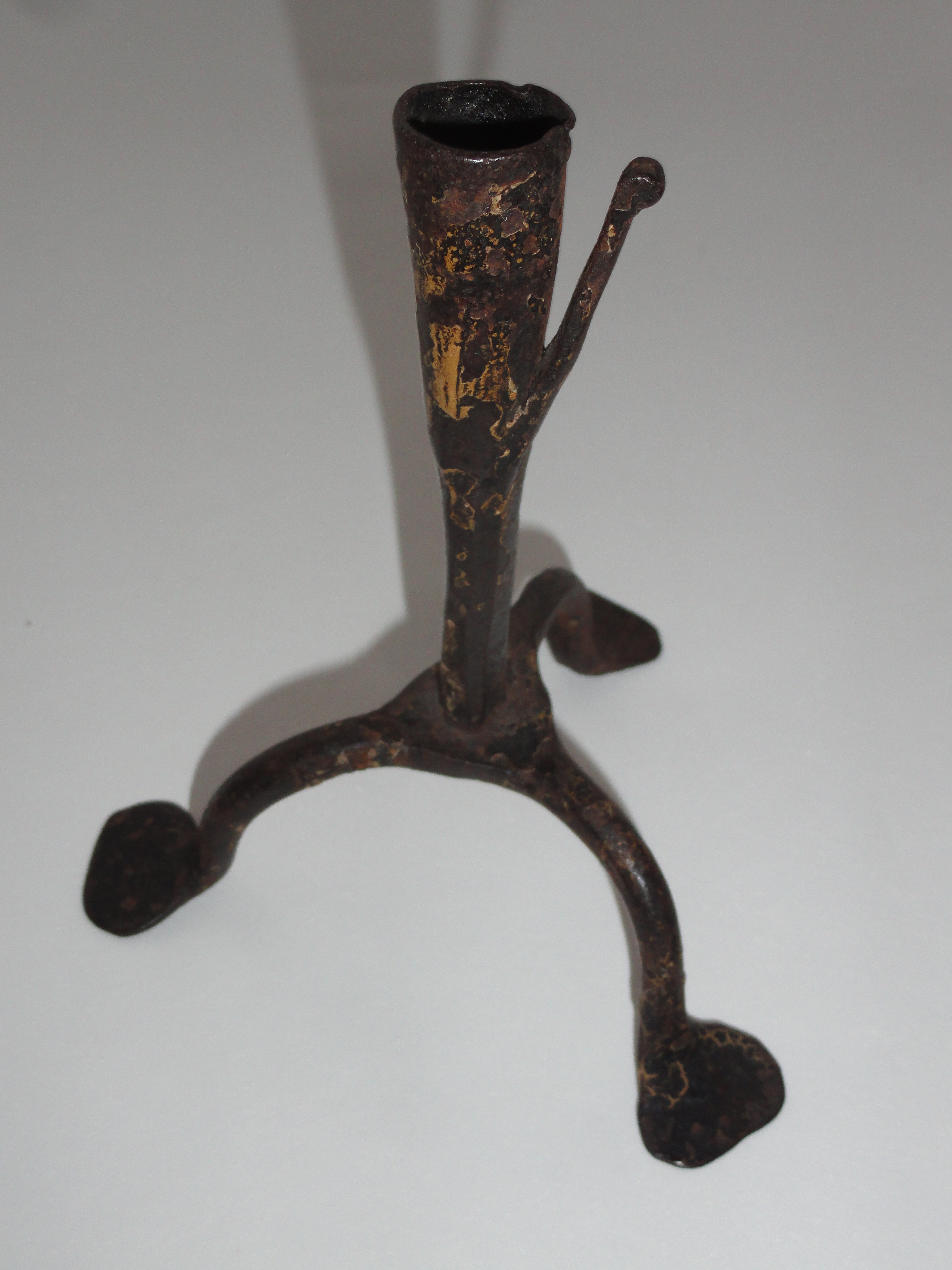 Material: Wrought iron
Dimensions: Height: 14.3cm / 5 ⅝in, Width of base (max): 12.5cm / 4 ⅞in
Date: Last quarter of the 17th century (possibly earlier)
Maker or Retailer: Unknown
Present Location: Private collection
Explanation:
During the 17th and 18th centuries candles, whether made of expensive beeswax or the cheaper tallow, were beyond the means of many people, except perhaps on special occasions.  For daily use, many families made use of rushlights, which were made by impregnating a length of dried rush with oil or animal fat and cost much less than candles.
This wrought iron lighting device has a socket to hold a candle and is also fitted with a clip into which a rushlight can be inserted, thus enabling it to be used for either light source.  It stands on a tripod base with round 'penny' feet and retains traces of cream paint, which is probably original.
In later rushlight holders , the rush is nipped in a pair of jaws which are closed either by gravity or by a spring.
Reference:
This candle and rushlight holder is illustrated in Robert Ashley, The Rushlight and Related Holders: a Regional View, March 2001
See also J Seymour Lindsay, Iron and Brass Implements of the English House, Medici Society, London 1924; revised and enlarged edition Alec Tiranti, London 1964, fig. 229
John Caspall, Making Fire & Light in the Home pre-1820, Antique Collectors' Club, Woodbridge, Suffolk, 1987, ISBN 1 85149 021 3, p. 151, fig.326 and Chapter VII