The Golby Bell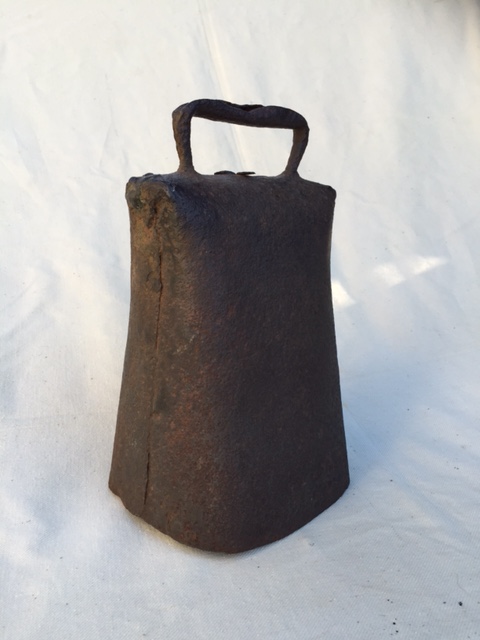 Material: Sheet iron, with traces of bronze coating
Dimensions: Height: 26cm / 6 ¼in, Depth: 13.8cm / 5 ⅜in, Width: 15.9cm / 6 ¼in
Place of Origin: Probably North Oxfordshire
Date: Probably 16th Century or earlier, but might be later.
Maker or Retailer: Unknown
Present Location: Private collection
Explanation:
The Golby Bell (named for a previous owner) is a large, canister-type hand-bell. It may be of monastic or liturgical origin, for summoning monks or congregations to prayer, or heralding a funeral, as in Chaucer's Pardoner's Tale.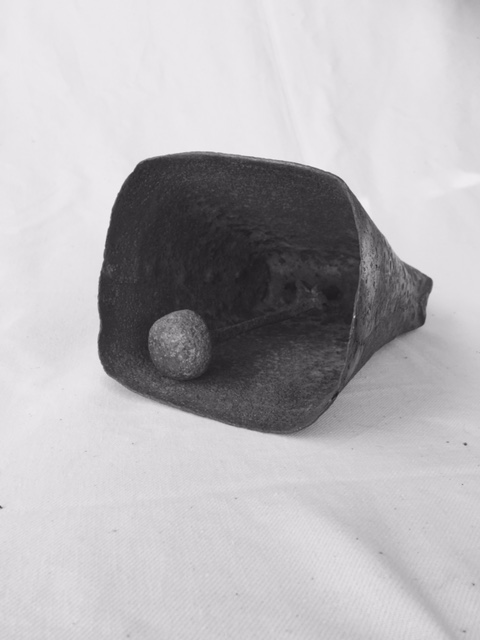 Such bells, mostly found in Scotland, Wales and Ireland, are traditionally associated with the Celtic Church. In the 5th century, St. Patrick had three blacksmiths making similar bells, one for each church he founded; his own bell, fabulously enshrined, is in the National Museum, Dublin. The plainer Marden Bell in Hereford Museum is associated with the 6th-7th century Saint Ethelbert. Legendary tales are associated with these and other ancient bells.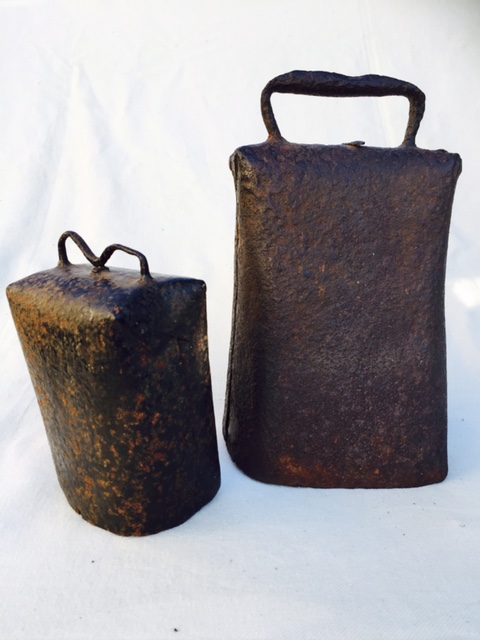 Made from a single sheet of wrought iron, cut, folded and riveted, this type of bell was often originally coated with bronze, to help preserve the iron while also enhancing the sound quality.
Smaller examples were commonly used as livestock bells into modern times, and the construction techniques were taken by settlers from the British Isles to America and Australia. These bells can be distinguished by their lighter suspension loops. The handle on the Golby Bell provides a good grip, enabling it to be swung at the side of the user.
In 1984, the similarly constructed 'Bruern Bell' was found buried on Cistercian Grange property in West Oxfordshire.
This exhibition may bring to light other large iron bells of this type, perhaps currently classified as 'cow-bells', for reassessment by comparison with the Golby Bell.
References:
Cormac Bourke, The hand-bells of the early Scottish Church, in Proceedings of the SOCIETY OF ANTIQUARIES OF SCOTLAND, vol. 113 1983, pp. 464-468
Tom Corfe, St.Patrick and Irish Christianity,1973, p.22 for an illustration of an Abbot with crozier and bell.