Copper Commemorative Box
Material: Copper
Dimensions: Height: 2.2cm / 0 ⅞in, Diameter: 7.4cm / 2 ⅞in
Place of Origin: London, England
Date: 1821
Maker or Retailer: Richard and Edward Kepp of Chandos Street, London
Present Location: Private collection
Explanation:
This round commemorative box is inscribed as follows: MADE FROM THE Old Ball & Cross of St Paul's Cathedral 1821.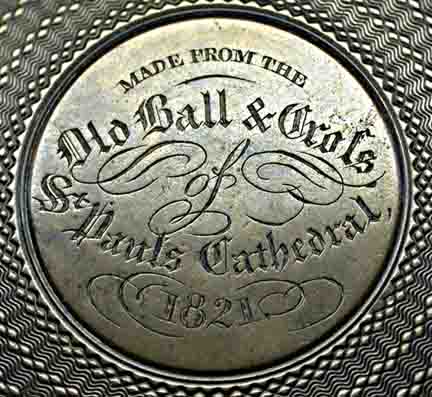 The box is turned from solid copper and its interior is mercury gilt. The exterior is decorated with engine turning and the inscription hand engraved. The maker's name KEPP is stamped on the outside of the base.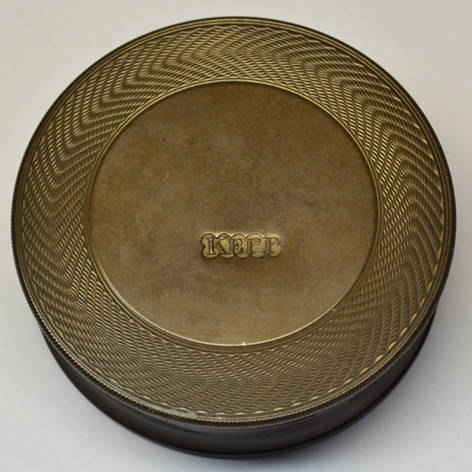 In 1821 Richard and Edward Kepp of Chandos Street, London made a replacement orb and cross for St. Paul's Cathedral; it was 23 feet high and weighed seven tons. In 1855 the company was taken over by Herbert Augustus Benham, Joseph Froud and four others, becoming known as Benham & Froud. The orb and cross was adopted as a trademark by Benham & Froud, firstly because the company had made the cross on the dome of St Paul's and secondly because it could be seen from the shop in Chandos Street. The orb and cross trademark was in use from 1855 to 1924.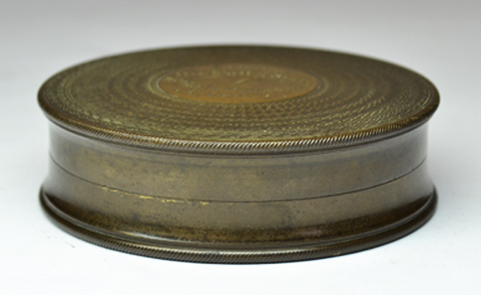 The box was acquired on the art market some 15 years ago and is thought to be the only recorded example. The Kepp mark is similarly the only recorded instance of this mark.
Reference: