Speculum Mirror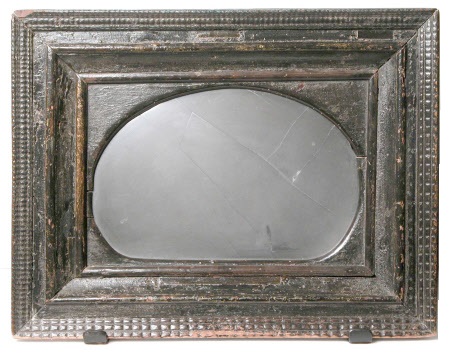 Material: Speculum (see below)
Dimensions: Height: 35cm / 14 in, Width: 45cm / 16 in
Date: Early – mid-17th century
Maker or Retailer: Unknown
Present Location: Cotehele House, Cornwall (National Trust property)
Explanation:
Speculum is a whitish alloy; its constituents were described by William Salmon in Polygraphice (1701) as:
'refined rose copper, tin, red tartar calcinated, white arsenick (sic) and nitre'.
Being very hard, speculum could be highly polished and has been used in optical instruments such as telescopes and microscopes. It also provided an alternative to looking glasses in the early to mid 17th century, when glass mirrors were both small and expensive. Mirrors of speculum are exceedingly rare survivals. The Cotehele example is illustrated in The Dictionary of English Furniture, where it is incorrectly described as a 'steel mirror plate'.
References:
The Dictionary of English Furniture (1954) republished by Antique Collectors' Club, Woodbridge, Suffolk, 1983, ISBN-10: 0907462375, ISBN-13: 978-0907462378  vol II, p. 312
This item can be found on the National Trust website: www.nationaltrustcollections.org.uk , item no.347879.