Wrought and Cast Iron Stove Grate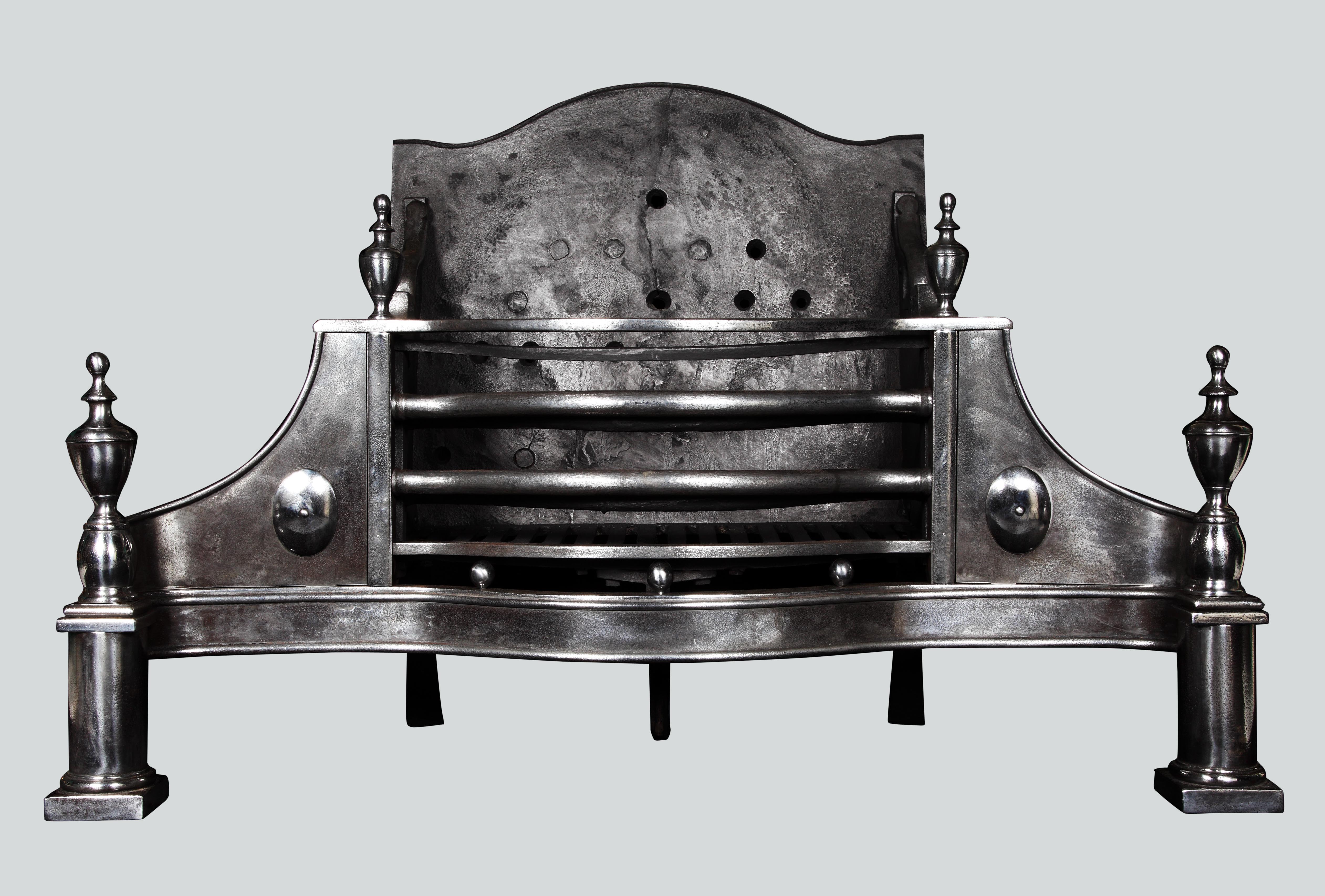 Material: Wrought and cast iron
Dimensions: Height:: 85cm / 33 ½in, Width: 122cm / 48in, Depth: 51.5cm / 20 ¼in
Place of Origin: Renishaw Hall, Derbyshire, England
Maker or Retailer: Unknown
Present Location: Private collection
Explanation:
This substantial double-fronted stove grate was originally made for the drawing room at Renishaw Hall during a period of renovation carried out by the architect Joseph Badger (1738-1817), who was commissioned by Sir Sitwell Sitwell between 1793 and 1808 to enlarge and remodel the Jacobean house in the Adam style.
Obviously designed to burn large quantities of coal in the winter months, this stove grate is fitted with a small floor wheel at the rear and hidden ball rollers under the column supports; these enable the front to be pulled forward, away from the main body of the stove grate, thus protecting it from the fierce heat of the fire. These fittings also made it easier to clean and in the summer months the front could be pushed back and secured to the rest of the grate by a simple slide mechanism with a strip of sprung steel under the coal grid.
This type of double-fronted stove grate, often referred to as a 'summer grate', was only to be found in the most important houses and although the present example lacks the lightness of touch of a stove grate designed, for example, by Robert Adam, it nevertheless demonstrates in its execution workmanship of the highest quality.
Although we can only presume that it was made by a local blacksmith, perhaps from Sheffield or Birmingham, it is somehow fitting that this magnificent stove grate should once have graced a house where the family fortunes were built upon coal and the manufacture of iron nails.
References:
Keith Pinn, Paktong, the Chinese Alloy in Europe 1680-1820, Antique Collectors' Club, Woodbridge, Suffolk, 1999, ISBN 1851493247,  pp.30-31 Plates16, 16A, 124-126
Christopher Gilbert & Anthony Wells-Cole The Fashionable Fire Place, 1660-1840, Temple Newsam Country House Studies No 2, Leeds City Art Galleries, 1985, ISBN 0901981230
Desmond Seward, Renishaw Hall: The Story of the Sitwells. Elliott & Thompson, 2015. ISBN-13: 9781783961832