Thomas Sturton Skillet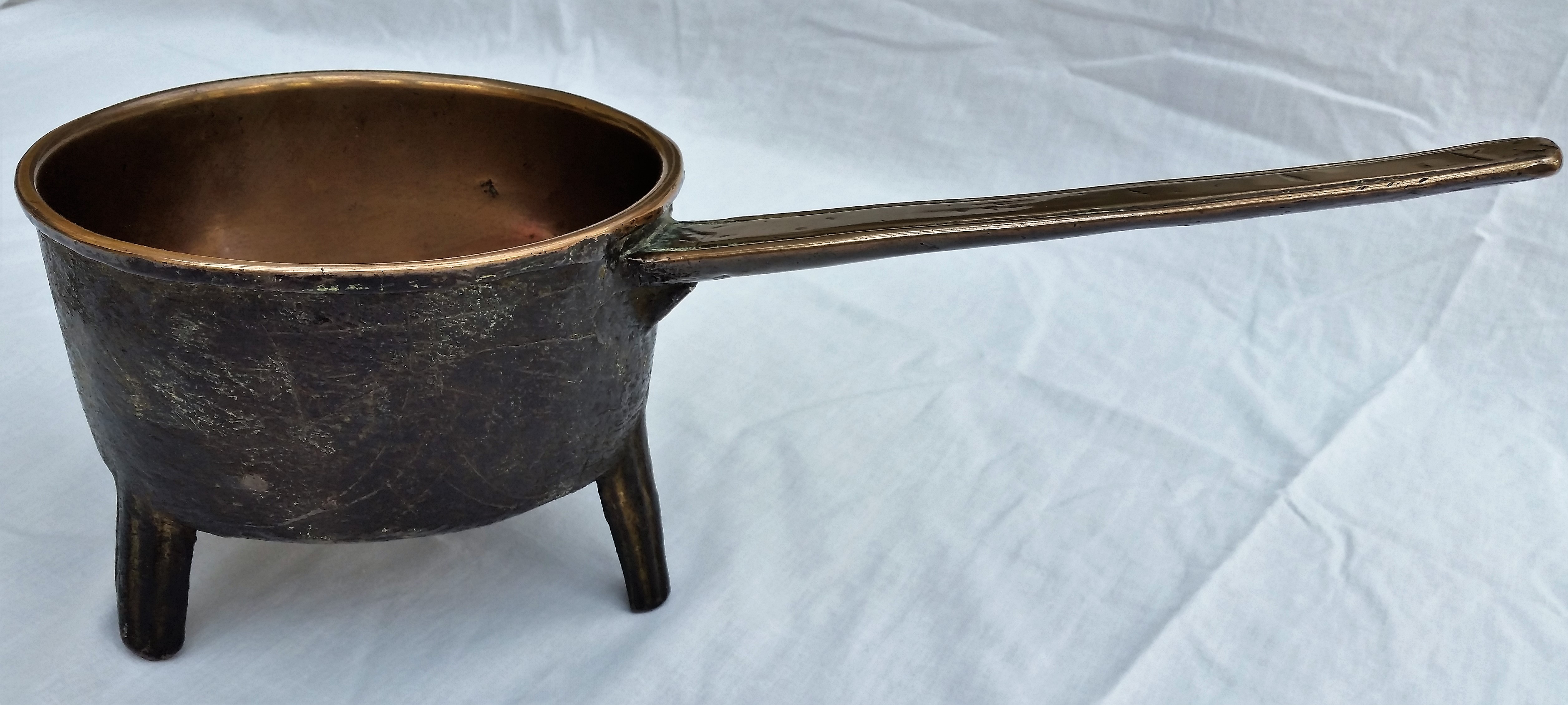 Material: Leaded bronze.
Dimensions: Height: 7 ¾" (19.8cm), Rim diameter: 7 ½" (19cm), Bowl depth: 3 ½" (9.2cm), Capacity: 3 ¼ pts, Handle: 9 ¼" (23.5cm).
Place of Origin: South Petherton, Somerset, England.
Date: 1658-1681.
Maker or Retailer: Thomas Sturton II.
Present Location: Private Collection.
Explanation:
This example of a 17th century skillet is believed to have been made by Thomas Sturton (the second) while he was active at his foundry in South Petherton, Somerset, sometime between 1658 and 1681. To the right of the handle, it bears the four-arch scratch-mark (or flower mark) that distinguishes the foundry at South Petherton from an associated foundry at Montecute, a short distance to the north-east, that used a three-arch scratch-mark.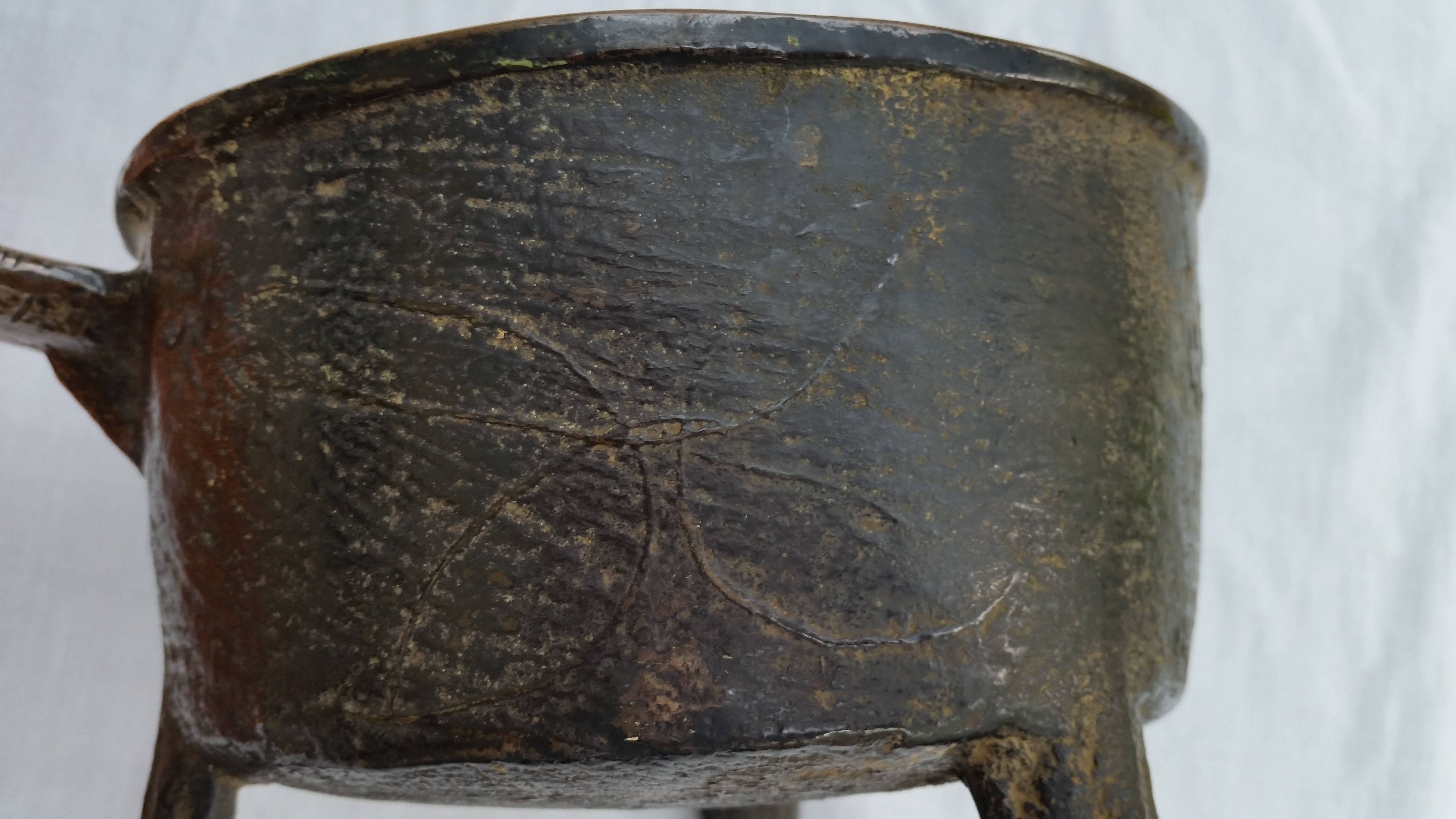 It is believed that eight members of the Sturton family produced vessels at South Petherton between (at least) 1630 and 1712. Each founder had their own distinguishing scratch-mark that they placed on the side of items they produced, and this skillet bears the distinctive "T" shaped scratch-mark of Thomas Sturton (the second); who is usually referred to as Thomas Sturton II.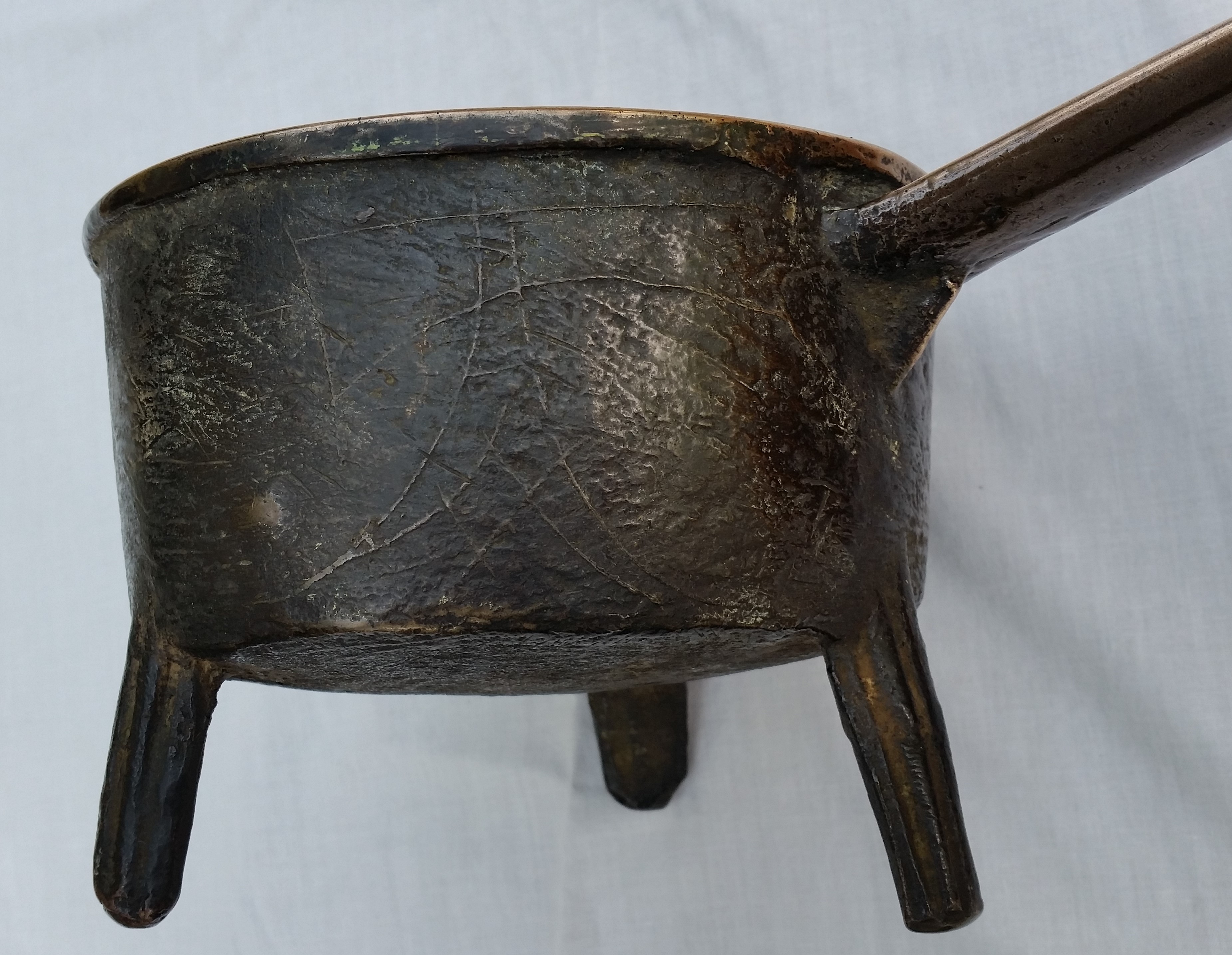 The inside of the bowl is smooth and remains bright from use, but the outside of the skillet is untouched and retains the original finish that has oxidized slowly over the years to produce a beautiful patina. Although the underside of the bowl still retains a sooty residue from use, it clearly displays the central sprue through which the molten metal was poured into the mould when the item was cast.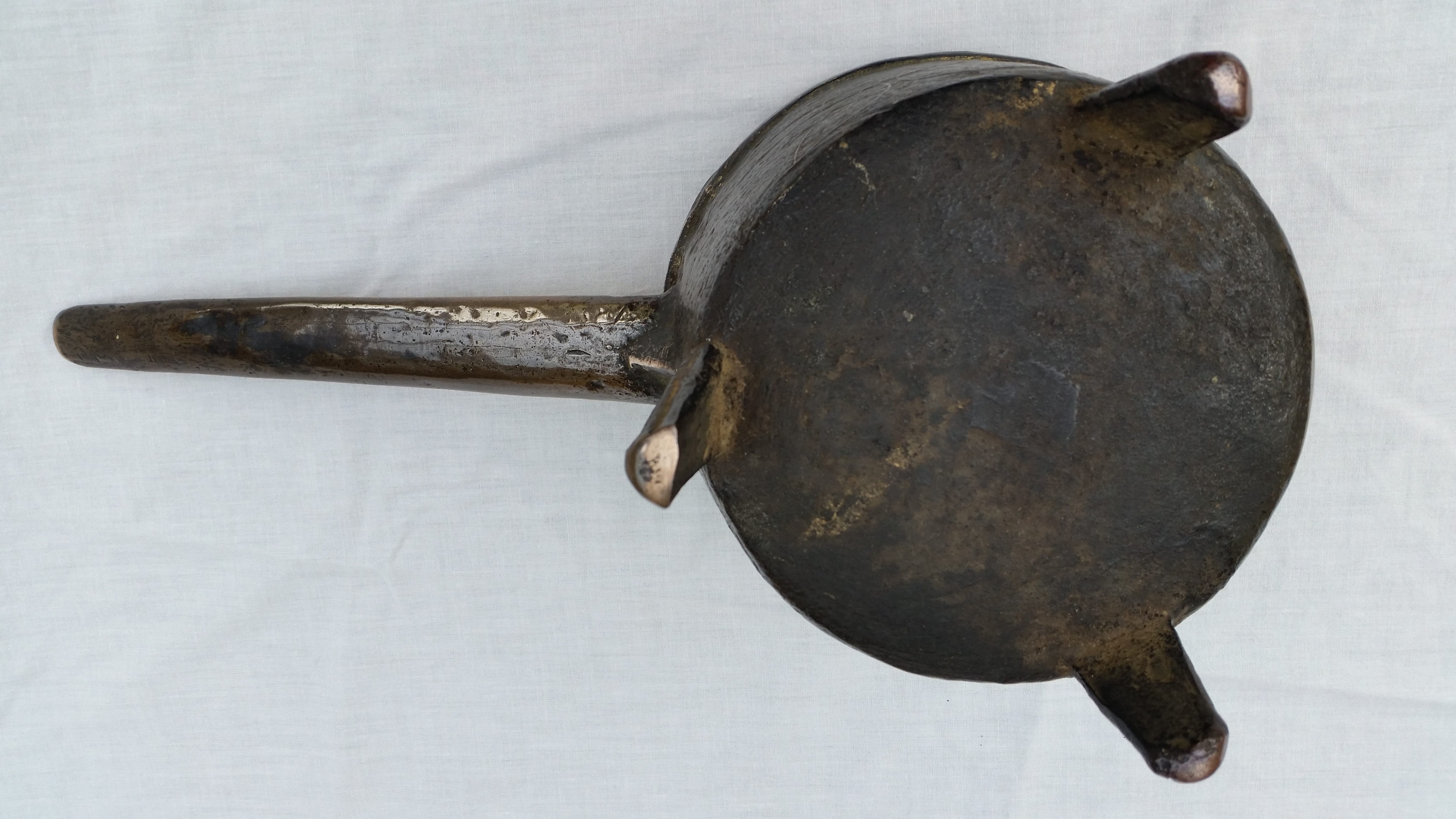 As is usual with old skillets that have been extensively used over a hearth, the two legs furthest from the handle have become shortened due to abrasion and lead slowly leaching out of the metal due to repeated heating.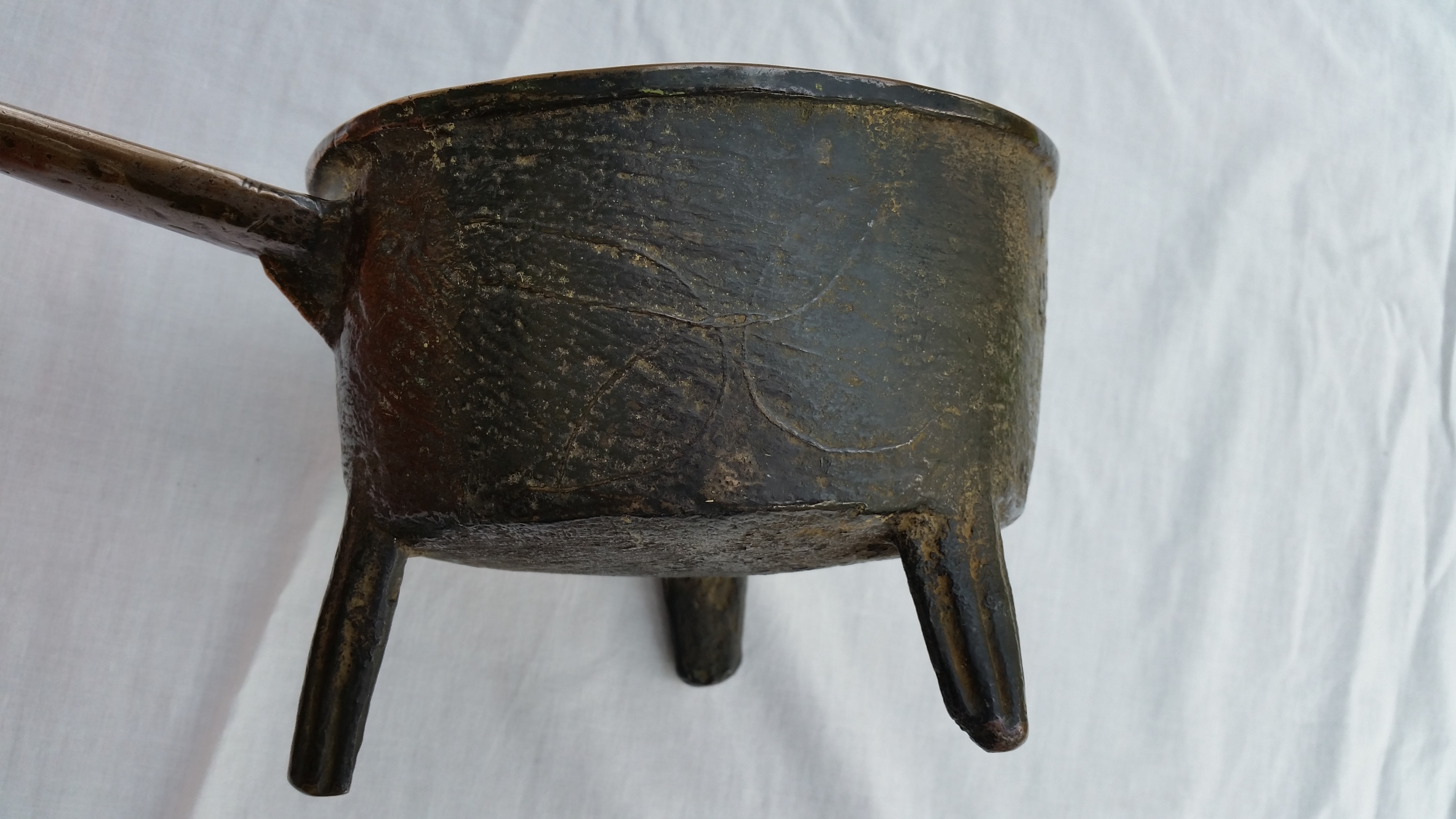 There is also a small raised mound just to the bottom left of the makers scratch-mark that may have been caused by the maker's finger pressing into the wet mould as he steadied it whilst scratching his mark.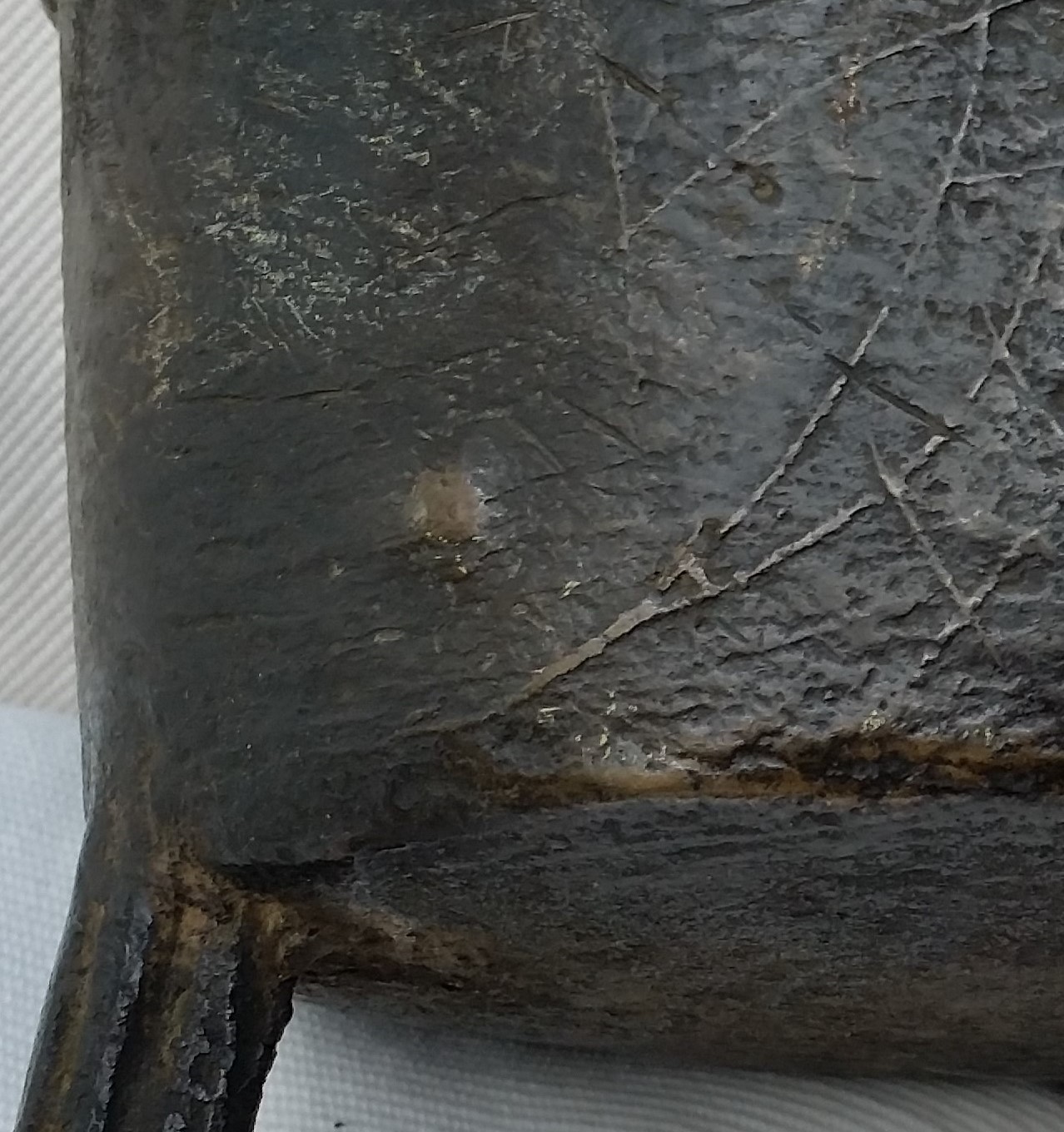 This is probably one of a range of size-graduated skillets that Thomas Sturton II and his descendants produced over the years, and each size has its own motto cast onto the top surface of the handle. Sadly, the motto on this example has almost completely worn way; although other examples of this size usually display the motto, "BEE CONSTANT", this one appears to be different.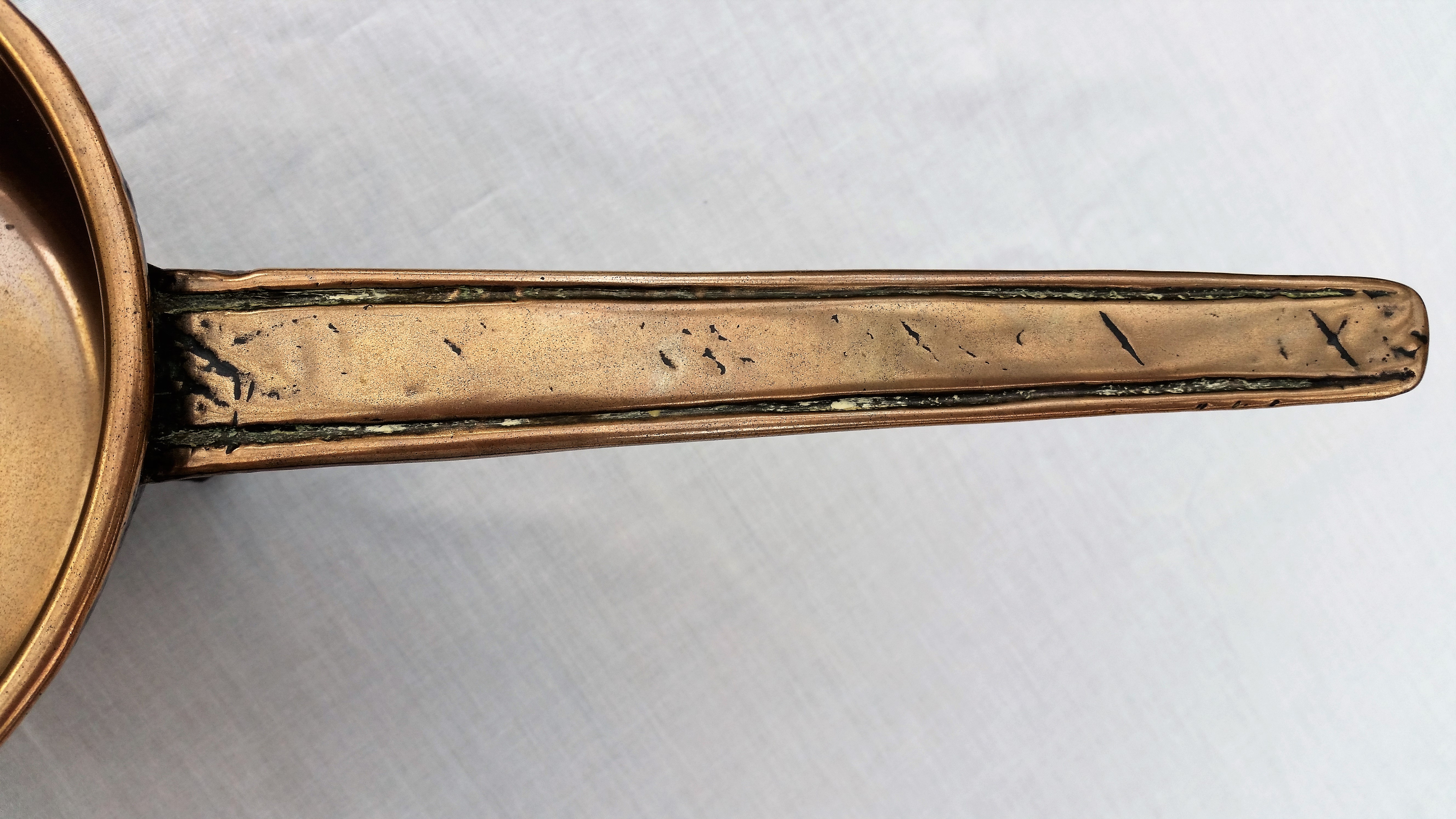 Reference:
Roderick Butler and Christopher Green, English Bronze Cooking Vessels & Their Founders 1350 – 1830, 2003. ISBN 0954605004