The Journal, Special Supplement, published June 2020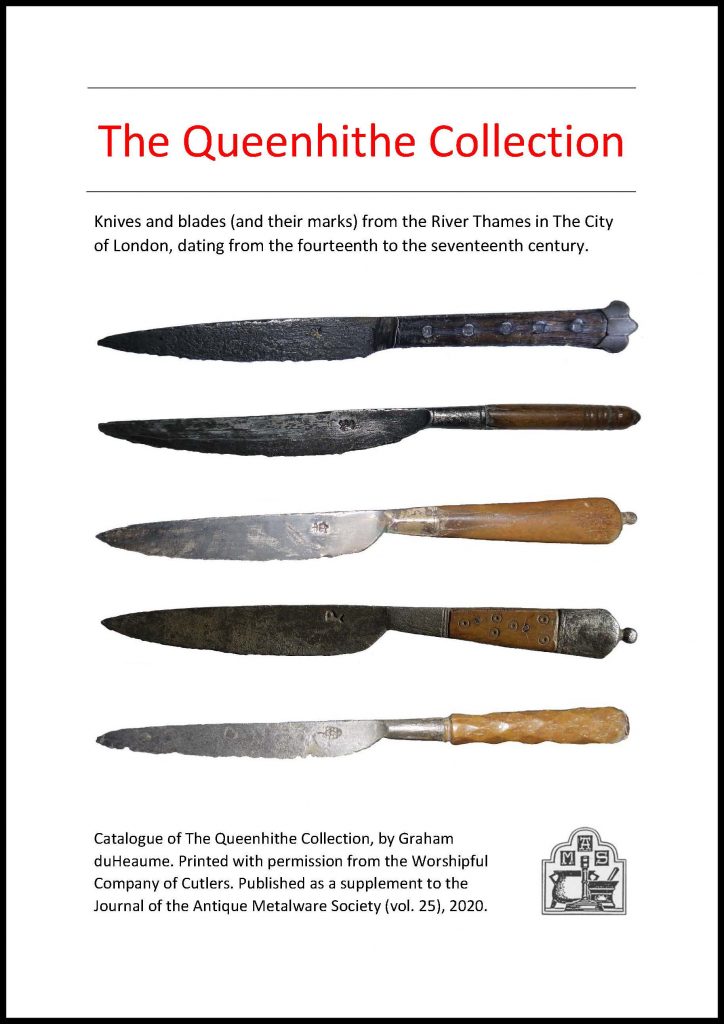 The Queenhithe Collection: Knives, Blades and Marks from the River Thames in the City of London, dating from the fourteenth to the seventeenth century.
Published in 2020 as a supplement to the Journal of the Antique Metalware Society, this comprehensive account of early knives results from the extensive collecting carried out on the Thames foreshore by Graham duHeaume from 1970 to 1986.  Such knives were often lost or thrown away if damaged and the river was used as a convenient dump for anything unwanted. The busy commercial activities of the Queenhithe Dock area doubtless added to the numbers of lost and discarded knives which form the basis of this collection.
This fully-illustrated catalogue contains some 860 examples and is a unique reference source for the collector, curator, historian and dealer. Most of the knives bear a cutler or bladesmith's mark and these marks are extensively illustrated and accompanied by relevant makers' names where known. Manufacturing techniques and resulting differences in construction are discussed, assisting the dating of knives in many instances.
The Queenhithe Collection is now in the ownership of the Worshipful Company of Cutlers and the Antique Metalware Society is grateful to the Worshipful Company for their co-operation in the publication of this catalogue.
Contents
Foreword by Richard Herbert, Chairman of the Collections Committee, Worshipful Company of Cutlers
Preface
Introduction to the Queenhithe Collection
Catalogue

Part 1: Knives
Part 2: Makers' Marks

Glossary of Terms