Keble Mortar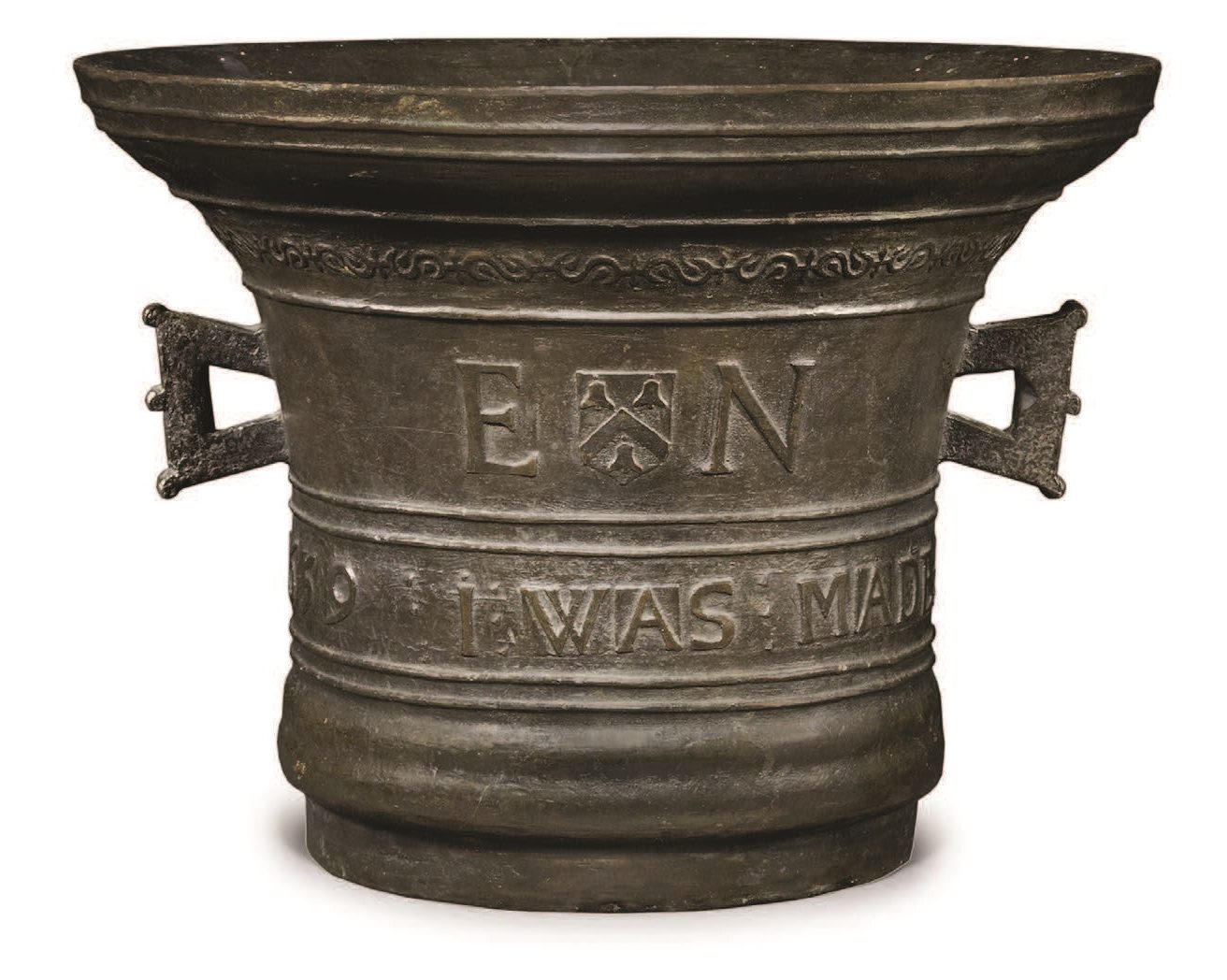 Material: Leaded bronze
Dimensions: Height: 27cm / 10 ¾in, Diameter: 36.6cm / 14 ⅜in
Place of Origin: Burford, Oxfordshire, England
Date: Dated 1659
Maker or Retailer: Edward Neale, bell-founder
Present Location: The Tolsey Museum, Burford, Oxfordshire, England
Explanation:
This large and important Commonwealth mortar was made in 1659 for Francis Keble, a prominent Burford mercer whose trading stock included cloth and groceries. The commissioning of such a prestigious item may have marked the end of Keble's apprenticeship and his freedom to set up in business. He was married in 1658, in his 21st year.
Cast in the manner of a bell, this is the largest of Neale's distinctive mortars. Whilst plain axe-shaped handles are occasionally found on mortars by other makers, the 'blips' on Neale's handles are apparently unique to this foundry.
The origin and provenance are self-evident in the inscription to the lower body: I WAS MADE FOR FRANCIS KEBLE. 1659. The founder's initials, E N, appear on either side of a shield bearing three bells and a chevron, one of the several devices used by Edward Neale (and Henry Neale before him), as evidenced by some 50 surviving smaller mortars and several church bells.
After almost 200 years of obscurity, the Keble Mortar became part of the Fitzhenry collection, loaned to the V&A Museum circa 1900. Documented throughout the 20th century by a number of authors, successive owners, dealers and auctioneers, it was purchased for Burford's Tolsey Museum in 2015.
The Keble Mortar amply demonstrates the skill and capabilities of a 17th century bell-founder. It is one of only a small number of decorated mortars where the names and details of both founder and original owner are known.
References:
Finlay, M., Who was Francis Keble?,  Journal of the Antique Metalware Society, Vol. 7, 1999, pp. 35 – 38
Finlay, M., English Decorated Bronze Mortars and their Makers, Plains Books, 2010, ISBN 9781872477022
Hemming, A.G.,  Dated English Bell-metal Mortars, The Connoisseur, March 1929