Damascened Candlestick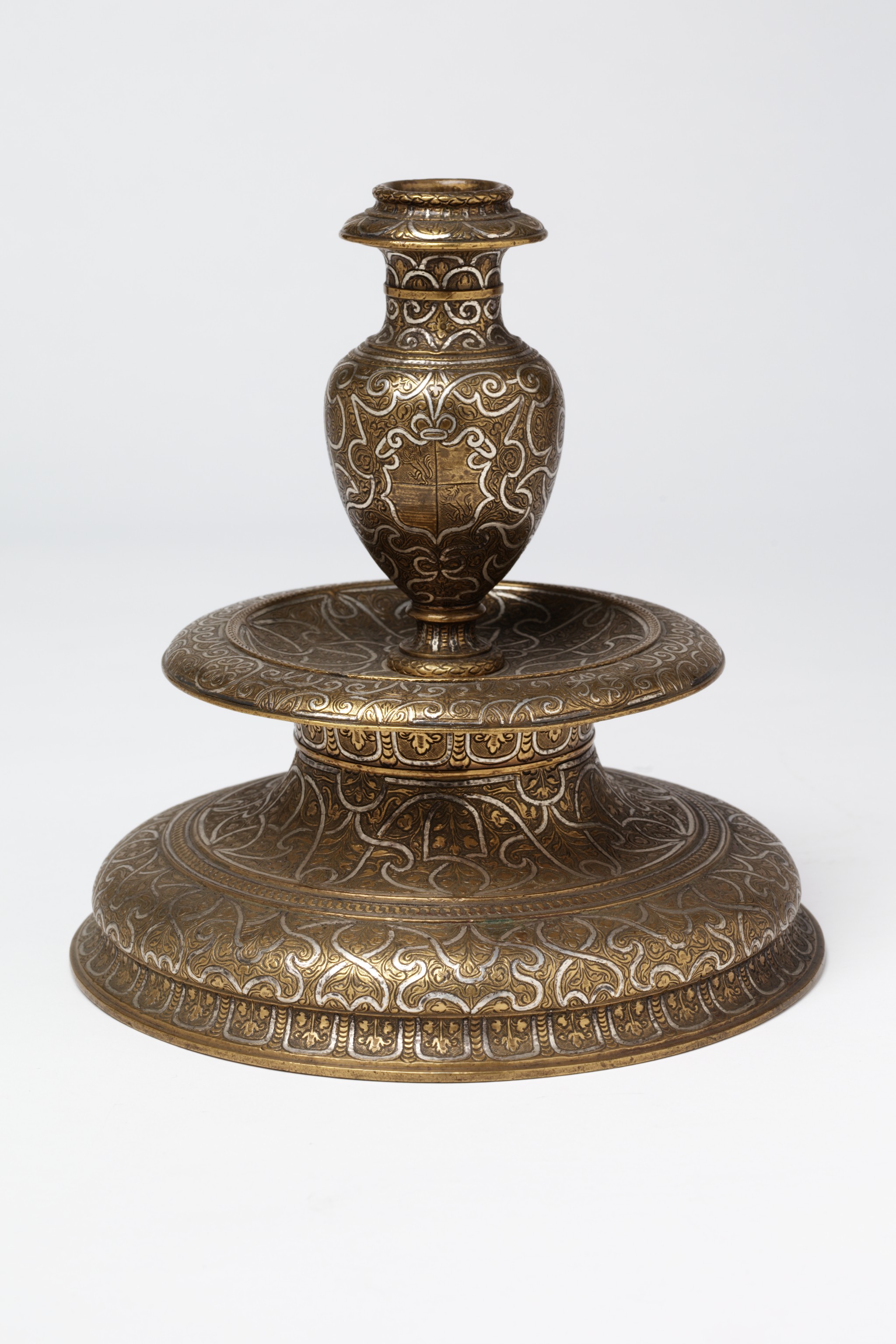 Material: Copper alloy, damascened with silver
Dimensions: Height: 19.6cm / 7 ¾in
Place of Origin: Venice, Italy
Maker or Retailer: Unknown
Present Location: Victoria and Albert Museum, London, Museum number 553-1865
Explanation:
This copper alloy candlestick consists of a wide trumpet-shaped base, a shallow, dished drip -pan and a vase-shaped socket.  It is decorated intricately with silver and gold wire which has been hammered and burnished onto the surface. This technique, known as damascening, is typical of the metalwork produced in northern Italy in the middle of the 16th century. Damascening was used to decorate a range of brass and ironwork including candlesticks, inkstands, weapons and armour. The coat of arms on the socket shows that the clientele for damascened brassware like this was very wealthy.
During the mid 16th century Venice was at the centre of trade between Europe and countries in the Turkish and Arab empires to the east. Venetian merchants exported sheet copper and brass to these areas, and brought back densely engraved or inlaid metalwork for an aristocratic market. Venetian craftsmen were influenced by these Islamic decorative styles, which then went on to influence craftsmen and markets across Europe. The candlestick is adorned with twisting, interlaced vines called arabesques, which became a marked feature of 16th century European metalwork.
This candlestick is a superb example of the 'Veneto-Saracenic' metalwork which has been the subject of much debate in recent years. It was formerly assumed that such objects were the work of Muslim craftsmen working in Venice, but this theory has been discredited in the light of the restrictive practices imposed by the 16th century Venetian guild system. The candlestick can be dated to around 1550, based on the similarity of the shape of its socket to contemporary Venetian wine glasses.
References:
Patterson, Angus, Fashion and Armour in Renaissance Europe: Proud Lookes and Brave Attire, V&A Publishing, London, 2009, ISBN  9781851775811, p. 97, ill.
Auld, Sylvia, Renaissance Venice, Islam and Mahmud the Kurd: A Metalworking Enigma, Al Tajir World of Islam Trust, London  2004. See pp. 246 – 264 for comparisons
Link to V&A Search the Collections database entry: http://collections.vam.ac.uk/item/O76338/candlestick-unknown/