Half-bushel Measure
Submitted by, and copyright of, Michael Finlay.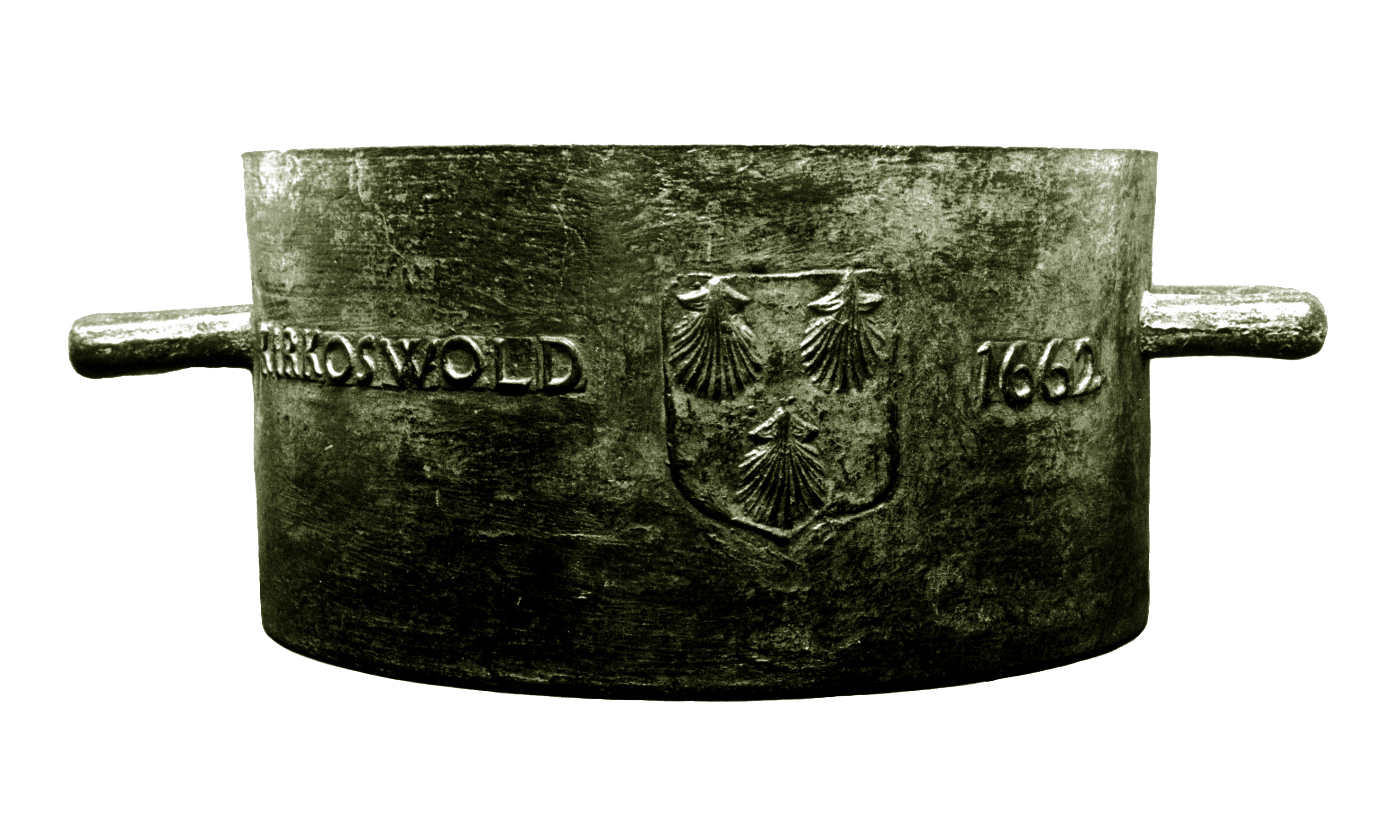 Material: Bronze
Dimensions: Height: 17.cm / 7 in high, Internal diameter: 36.5cm / 14.25in
Place of Origin: UK, precise origin uncertain
Maker or Retailer: Unknown
Present Location: Private collection
Explanation:
A two-handled bronze cylindrical dry measure of half-bushel capacity, cast with the armorial bearings of the Lord of the Manor of Kirkoswald, Lord Dacre, (Gules three escallops Argent) and dated 1662. Its capacity, calculated from its internal dimensions, is approximately a half bushel.
A bushel measure from the same set is now in the Guildhall Museum, Carlisle.
An entry in the Kirkoswald Manor Court Roll  of 24th April, 1667, (C.R.O. Carlisle, D/Musgrave papers) refers to the use of these standard measures in the Market of Kirkoswald:
"Wee the Jurors of Kirkoswold with the approbation of the Steward in open Court doe Order and putt in paine: That the Measure of Barley, Bigg, Oates and Malt in the Markett of Kirkeoswold hereafter shalbe Twenty Gallons Winchester Measure And all other Sorts of graine Sixteene Gallons to the Bushell of the same Measure: And that all those that Keepe pecks to buy or sell withal within the Markett Towne of Kirkeoswold shall come to the Bailiffe and to two of the foremen of the Jury of Kirkeoswold to gitt their pecks sealed according to the said Measure and brass standard Remaining in the Bailiffs Custody before the 15th day of May 1667.  And if any person or persons shall keepe any bushel peck or other measure whatsoever to buy or sell withal after the said 15th day of May 1667 not Agreeing with the Standard That person or persons soe offending shalbe Amercyed and Forfeit to the Lord of the Manner for every offence vj s viijd."
Reference:
Michael Finlay, NDD DipEd FSVA, An unrecorded half-bushel measure from Kirkoswald, Transactions of the Cumberland and Westmorland Antiquarian and Archaeological Society, Volume LXXXVI, 1986, p. 271