The Sandwich Steelyard Weight or Poise
Submitted by, and copyright of, Michael Finlay.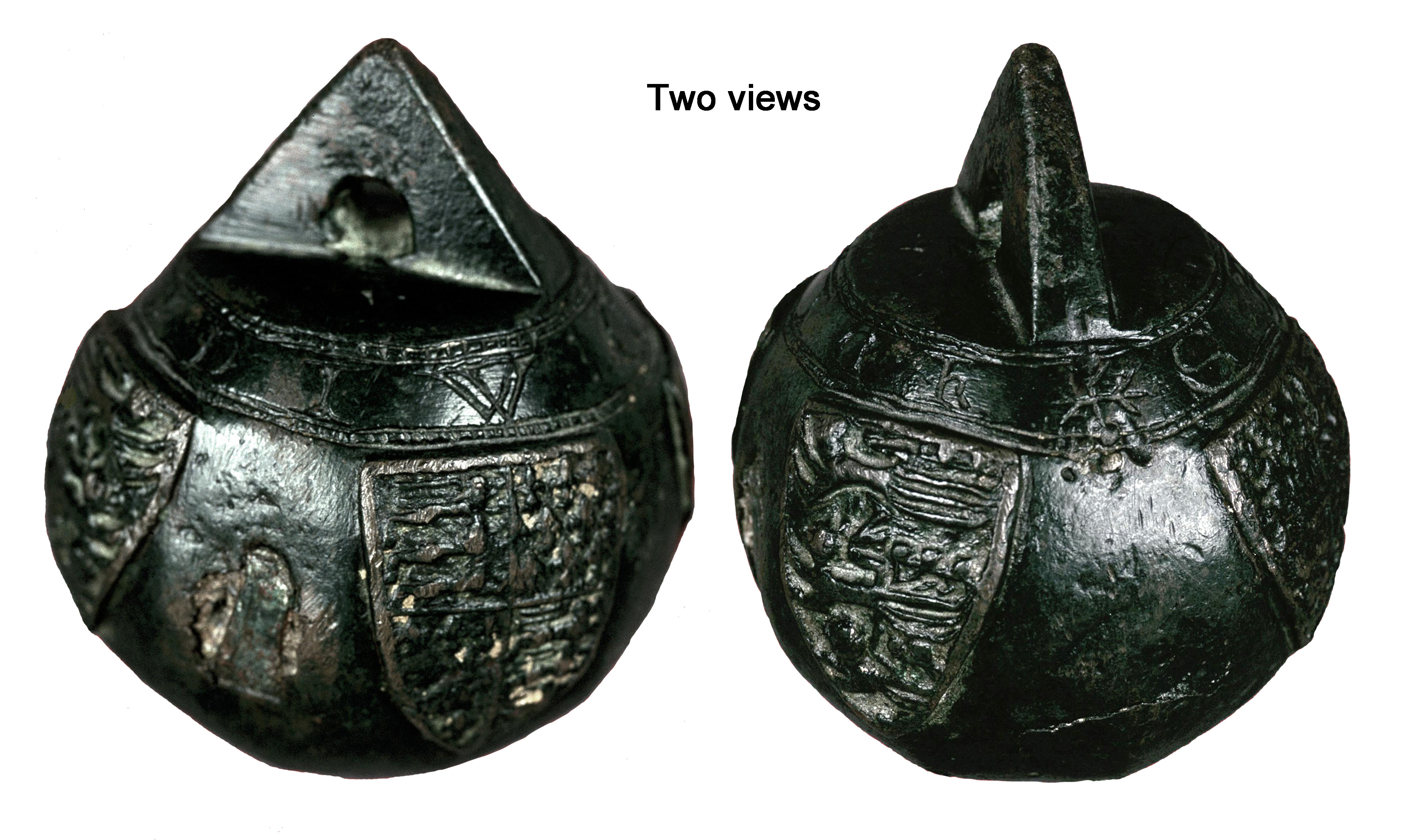 Material: See main text
Dimensions: Height: 12cm / 4 ¾in
Maker or Retailer: Unknown
Present Location: Sandwich Museum
Explanation:
Materials (analysis by X-ray spectrometry):
Copper:  84.40%
Zinc:  2.20%
Tin:  3.06%
Lead:  8.48%
Nickel:  0.09%
Iron:  0.11%
Antimony:  0.90%
Arsenic:  0.74%
Silver:  0.07%
This mediaeval steelyard weight, poise or weight of auncel, is of lightly facetted spherical form with triangular suspension loop. It is made of leaded bronze, with a lead core. The body is cast with four armorials, two of Edward III (England and France Ancient) and two of the Cinque Ports and Sandwich, the shoulder engraved "SANDWICH" in Lombardic upper case. It has overall green patination and weighs 12 lb 4 oz (5.5.kg).
An Act of 14 Edward III, (1340) provides that " … the Treasurer (shall) cause to be made certain Standards of Bushels, Gallons, of Weights of Auncel and send the same into every County where such standards be not sent before this time".
Because of the nature of the steelyard scales and its potential for unfair dealing, by an  Act of 34 Edward III (1360) it was enacted that  "Whereas very great Damage and Deceit is done to the People by so much that divers Merchants use to buy and weigh Woolls and other Merchandises by a Weight that is called Auncel; it is accorded and established, that this weight called Auncel, betwixt the buyer and the seller shall be wholly put out".
References:
Archaeologia Cantiana, Vol LXXVI, 1961, pp. 201-202
Connor, R.D., The Weights and Measures of England, H.M.S.O., 1987,  pp. 233-234